Publication:
Patrones de mortalidad en las poblaciones de Democricetodon larteti del yacimiento madrileño de Húmera (Aragoniense medio, Mioceno medio)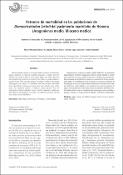 Advisors (or tutors)
Editors
Publisher
Sociedad Geológica de España
Abstract
Democricetodon larteti es un roedor cricétido hallado en los yacimientos paleontológicos de Húmera (Aragoniense, Mioceno medio, Madrid). El estudio del desgaste en sus terceros molares (superiores e inferiores) ha permitido establecer un patrón de mortalidad que muestra un predominio de formas juveniles. Dicho patrón de mortalidad es similar al descrito en el cercano yacimiento de Somosaguas, en el que se considera que los individuos más jóvenes son los que más fácilmente morían debido a unas condiciones de vida muy adversas. El patrón de mortalidad de Húmera indicaría que los individuos de Democricetodon larteti podrían, como se ha descrito para Somosaguas, estar sometidos a una gran presión, por lo que raramente llegaban a alcanzar la edad adulta.
Democricetodon larteti is a cricetid rodent found in the paleontological deposits of Húmera (middle Aragonian, middle Miocene, Madrid). The study of wear in third molars (upper and lower) has allowed establishing a pattern of mortality that shows a predominance of juvenile forms. This mortality pattern is similar to that of the nearby Somosaguas site, where it is considered that the youngest individuals were most likely to die because there were very adverse living conditions. The mortality pattern of Húmera would indicate that the individuals of Democricetodon larteti could be subjected, similarly as described for Somosaguas, to a great enviromental pressure, so that they rarely reached adulthood.
Collections