Publication:
Tratamiento con hormona paratiroidea de la osteoporosis producida por depleción androgénica: efectos sobre la calidad ósea en un modelo experimental en ratas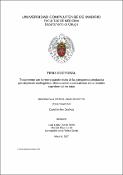 Files
Authors
Advisors (or tutors)
Editors
Publisher
Universidad Complutense de Madrid
Abstract
La calidad ósea viene determinada por una serie de factores diversos entre los que presentan especial importancia la propia densidad mineral ósea (DMO), el remodelado óseo y las propiedades biomecánicas del hueso. Hipótesis y Objetivos: El objetivo de este trabajo es el estudio del efecto que produce la orquidectomía (OQX) en ratas sobre estos factores, así como los efectos producidos por la administración de hormona paratiroidea (1-34 PTH) (4 x 10-6 g por kg por día) vía subcutánea, tanto a nivel preventivo como curativo. Material y método: Se han estudiado 97 ratas Wistar macho de 9 meses de edad que fueron operadas de forma simulada (SHAM) u orquidectomizadas (OQX) y se repartieron en 2 estudios: preventivo y curativo. Se determinaron la DMO en columna y fémur por absorciometría de rayos X de doble energía (DEXA). estudios histomorfométricos, marcadores de formación y resorción ósea y propiedades biomecánicas (momento torsor, rigidez, ángulo girado, energía absorbida y tensión cortante máxima). Resultados: La OQX produjo un descenso significativo sobre la densidad mineral ósea (fémur: 0.276 más menos 0.020a, columna lumbar: 0.222 más menos 0.018a) y el BV/TV (porcentaje de la cantidad de hueso). El tratamiento con PTH mejoró los niveles de DMO tanto en el grupo de prevención (fémur versus lumbar: 0.332 mas menos 0.008b,c versus 0.272 más menos 0.017b,c) como en el grupo de tratamiento (fémur versus lumbar: 0.306 más menos 0.017c versus 0.257 más menos 0.006c), e igualmente provocó un incremento en el BV/TV. No se encontraron diferencias estadísticamente significativas (p menor de 0,05) en cuanto a los estudios biomecánicos en los grupos de estudio. Conclusiones: La administración de PTH, tanto por prevención como por tratamiento, restaura los niveles de la DMO en las ratas OQX, aunque los niveles de remodelado óseo, especialmente los de formación, de los animales tratados sufren un incremento significativo frente a los controles. Las propiedades biomecánicas del hueso en ratas OQX son similares a las de las ratas control, sugiriendo que la PTH no tiene efectos negativos sobre la calidad del hueso.
Bone quality is determined by a variety of factors, among which bone mineral density (BMD), bone remodelling and biomechanical properties of bone have special importance. Hypothesis and Objetives: The purpose of this work is to study changes produced by orchidectomy on these factors, and the effects produced by subcutaneous PTH-ad- ministration (4x10-6g/kg/day), at preventive and treatment level. Material and Methods: Ninety-seven male Wistar rats, 9 months old, SHAMoperated (SHAM), orchidectomized (OQX); treated and non-treated with PTH were studied; and they were distributed into two studies: prevention and treatment. Lumbar BMD and femoral BMD were measured by DEXA, trabecular-volu- me histomorphometric assays, formation and resorption markers and biomechanical properties (maximum torque, angular deformation, rigidity and absorbed energy) were also measured. Results: Orchidectomy produced a significant decrease on bone mineral density (femur: 0.276 ± 0020th column: 0.222 ± 0018th) and BV / TV. Treatment with PTH levels DMO improved both the prevention group (femur / lumbar: 0.332 ± 0.008b, c / 0.272 ± 0.017b, c) and the treatment group (femur / lumbar: 0.306 ± 0.017c / 0.257 ± 0.006c) and also caused an increase in BV / TV. No statistically significant differences (p <0.05) in terms of biomechanical studies in the different groups were found. t. Conclusions: PTH administration on a preventive and treatment level restores BMD levels in OQX rats, although bone remodeling levels, especially formation markers, in treated animals suffered a significant increase with respect to control group. Biomechanical properties of bone in OQX were similar to those of the control group, suggesting that PTH do not produce negative effects on bone quality.
Description
Tesis inédita de la Universidad Complutense de Madrid, Facultad de Medicina, Departamento de Cirugía, leída el 09-02-2016
Collections