Publication:
Geopolítica popular del coronavirus: el poder de las viñetas editoriales de la prensa diaria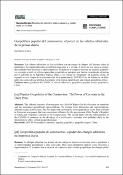 Authors
Advisors (or tutors)
Editors
Publisher
Universidad Complutense de Madrid
Abstract
Las viñetas editoriales de los periódicos son un campo de disputa del discurso sobre la pandemia y las representaciones geopolíticas asociadas a la misma. A través de dos casos se pretenden analizar estos discursos y representaciones. El primero se ocupa de mostrar las miradas geopolíticas cruzadas a partir de viñetas aparecidas en periódicos europeos que fueron consideradas ofensivas por el gobierno de la República Popular China y las viñetas de "respuesta" en la prensa china. El segundo se va a ocupar de la representación de la pandemia del COVID-19 en las viñetas de un dibujante muy conocido que publica diariamente en la prensa española con una mirada geopolítica crítica.
The editorial cartoons of newspapers are a field of dispute for the discourse on pandemic and the associated geopolitical representations. To analyze these discourses and representations, attention is paid to two cases. The first deals with showing the cross-geopolitical views from cartoons in European newspapers that were considered offensive by the government of the People's Republic of China and "response" cartoons in the Chinese press. The second deals with the representation of the COVID-19 pandemic in the drawings of a well-known cartoonist who publishes daily in the Spanish press with a critical geopolitical gaze.
Collections