Publication:
Jóvenes musulmanes españoles: un estudio etnográfico en la Comunidad de Madrid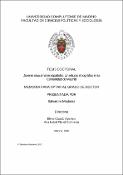 Files
Authors
Advisors (or tutors)
Editors
Publisher
Universidad Complutense de Madrid
Abstract
En el debate público actual la presencia y la evolución del Islam en Europa sigue suscitando miedos y desconfianzas, con imágenes de mundos en guerra donde, más allá de un desencuentro entre culturas, se llega a plantear un choque entre civilizaciones.Investigar sobre jóvenes musulmanes españoles y europeos no es una tarea fácil si tomamos como punto de partida la lectura de buena parte de la bibliografía existente. Las huellas de un etnocentrismo, de un eurocentrismo orientalista, siguen influyendo en la agenda y los intereses de unos investigadores interesados en analizar cuestiones como la integración, la aculturalización o la posible radicalización de los jóvenes, presentados como una minoría problemática con necesidad de integrarse en una mayoría compacta y homogénea.El debate sobre el Islam europeo o el euro-Islam parece también frenado en su legitimación intelectual o moral por el trabajo de algunos expertos, representantes de la comunidad islámica europea que, desde arriba, intentan formular interpretaciones religiosas de un Islam más acordes con los procesos de secularización político-social,laicización de la esfera pública e individualización de la religiosidad que caracterizarían,una vez más, un contexto occidental homogéneo. Nuevamente, se propone un Islam prefabricado que los jóvenes deberían seguir para poderse integrar a la sociedad occidental de modo más conforme.En el contexto español, parte del debate público y de las investigaciones más recientes coinciden en la peligrosidad del colectivo juvenil musulmán indicándolo como un problema al cual se enfrentará la sociedad en el futuro más próximo. El terrorismo y la probable radicalización de los jóvenes entran también en las preocupaciones principales de las instituciones estatales que empiezan a desarrollar políticas y actuaciones con fines de control...
The actual presence of Islam and Muslims in Europe is one of the most highly visible andproblematized current debates where the young Muslims are usually portrayed as thebiggest concern when approaching the future evolution of Islam in Occident. Integration,acculturation and their possible radicalization are still the principal issues of the researchagenda very often influenced by a prevailing ethnocentrism and eurocentrism that stilldescribe the successive generations of Muslim like a problematic, when not dangerous,minority that should be integrated in a compact and homogenous majority.On the other hand, on behalf of the representatives of the religious Muslim groups inEurope, a kind of a prefabricated Islam is offered like a guide or opportunity to foster theintegration of these young Muslim generations. This Islam is supposed to be more adjustedto the process of individualization and secularization that has transformed the continent inthe last centuries.In the Spanish context, part of public opinion and some scientific researchers warn aboutthe possibility of a progressive and dangerous radicalization of young Muslims groups.Accordingly, we are registering the implementation of the first State´s measures to preventthe radicalization of certain social groups and the development of tight police control oversome of these groups and individuals...
Description
Tesis de la Universidad Complutense de Madrid, Facultad de Ciencias Políticas y Sociología, leída el 09-05-2017
Collections