Publication:
La recuperación de la memoria en la narrativa latinoamericana contemporánea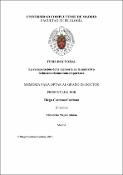 Files
Authors
Advisors (or tutors)
Editors
Publisher
Universidad Complutense de Madrid
Abstract
Se examinan en esta Tesis Doctoral algunos de los temas vinculados a las relaciones entre Literatura e Historia, a partir de cuatro novelas del siglo XXI, escritas por autores latinoamericanos. Las obras son: Malinche (2006), de Laura Esquivel con un replanteamiento del mito fundacional de México a partir de la Conquista española. Enseguida, El sueño del Celta, (2010), de Mario Vargas Llosa con la reivindicación de un irlandés cuyas peripecias cubrieron tres continentes entre finales del siglo XIX y comienzos del XX. Una tercera obra es El fin de la locura, (2016) de Jorge Volpi, sobre el Paris de Mayo-68 y los años subsiguientes, con episodios importantes en Cuba y Chile, y finalmente en el México de Salinas de Gortari: una mezcla entre estructuralismo, psicoanálisis y revolución. Y finalmente, una cuarta obra, Aquiles, o la historia del guerrillero y su asesino (2016) de Carlos Fuentes, sobre un exguerrillero de la Colombia contemporánea. Así, se trata de dos obras de autores tardíos del boom latinoamericano, y dos del post-boom: uno del Grupo Crack y otra con una manera diferente de escribir.
This PhD dissertation examines some of the issues associated with the relationships between literature and history based on four 21st-century novels by Latin American authors. These are Malinche (2006), by Laura Esquivel, with a reworking of the foundational myth of Mexico beginning with the Spanish conquest; El sueño del Celta (2010), by Mario Vargas Llosa, which features the vindication of an Irishman whose adventures covered three continents in the late 19th and early 20th centuries; El fin de la locura (2016), by Jorge Volpi, set in Paris in May 1968 and subsequent years, with major episodes in Cuba and Chile, and finally in the Mexico of Salinas de Gortari – a mix of structuralism, psychoanalysis, and revolution; and fourth, Aquiles o la historia del guerrillero y su asesino (2016), by Carlos Fuentes, about a former guerrilla combatant in contemporary Colombia. Of these four, two are by authors from the Latin American literary boom, and two from the post-boom. Of the last two, one is from the Grupo Crack and another has a different approach to writing...
Description
Tesis inédita de la Universidad Complutense de Madrid, Facultad de Filología, Departamento de Literaturas Hispánicas y Bibliografía, leída el 01-02-2021
Collections