Publication:
Legitimating meritocracy as part of the American Dream through the ritual of commencement speeches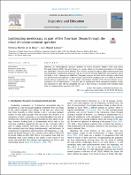 Advisors (or tutors)
Editors
Abstract
Following an interdisciplinary approach anchored in Critical Discourse Analysis (CDA) and Critical Metaphor Analysis (CMA), this article focuses on a genre which has flourished particularly at US colleges and universities: commencement speeches. The aim is to analyze this type of public communication from the perspective of legitimation, as part of CDA, to uncover the ideology behind this social practice, which functions as a rite of passage into adulthood. This paper proposes the study of four strategies, which flesh out all commencement speeches, as key points in a genre which emphasizes the core values in American society such as meritocracy and common good as constituting elements of the American Dream: (a) authorization; (b) self-commitment; (c) altruism; and (d) mythopoesis, where conceptual metaphors, within the framework of CMA, will be highlighted. The use of each strategy is illustrated with examples taken from 15 commencement speeches (2015–2019).
Description
CRUE-CSIC (Acuerdos Transformativos 2022)
Collections