Publication:
Palinología de arcillas carbonosas del Aragoniense de la zona de Orera (Cuenca de Calatayud)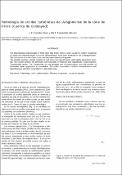 Advisors (or tutors)
Editors
Publisher
Sociedad Geológica de España.
Abstract
The palynological assemblages of three dark clay levels from a cyclic lacustrine section consisting of clayey and dolomite levels in a cyclic sedimentation have been analyzed in the Calatayud basin. This succession is in the Orera zone and has been dated as Aragonian. The samples contain a larger number of well preserved sporomorphs with highly taxonomic diversity. The Conifer pollens are dominant with bisaccate (Pinaceae) and inaperturate (Cupressaceae, Taxodiaceae) grains. The Compositae are the greatest part of Angiosperms and the number of freshwater algae zygospores is remarkable. The pollen association contains autochthonous and allochthonous elements deposited in a lacustrine area.
Collections