Publication:
Personal body ornamentation on the Southern Iberian Meseta: An archaeomineralogical study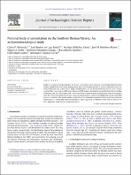 Advisors (or tutors)
Editors
Abstract
Beads and pendants from the Castillejo del Bonete (Terrinches, Ciudad Real) and Cerro Ortega (Villanueva de la Fuente, Ciudad Real) burials were analysed using XRD, micro-Raman and XRF in order to contribute to the current distribution map of green bead body ornament pieces on the Iberian Peninsula which, so far, remain undetailed for many regions. XRD, micro-Raman and XRF analyses showed that most of the beads from Castillejo del Bonete (Late 3rd millennium cal. BC) were made from variscite or green phyllosilicates, while Cerro Ortega's (Late 4th millennium cal. BC) beads were made out of fossil wood or Clinochlore. Significantly enough, while XRD pointed to variscite as the main crystallo-graphic phase, the elemental composition did not match any elemental compositions of known and characterised sources, thus suggesting an unknown south-eastern source or an extra-peninsular origin of these ornamental pieces.
Collections