Publication:
Evolution of the microstructure, chemical composition and magnetic behaviour during the synthesis of alkanethiol-capped gold nanoparticles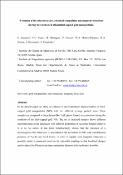 Advisors (or tutors)
Editors
Publisher
Pergamon-Elsevier Science LTD
Abstract
In the present paper, we show an exhaustive microstructural characterization of thiol-capped gold nanoparticles (NPs) with two different average particle sizes. These samples are compared with the polymer-like Au(I) phase formed as a precursor during the synthesis of the thiol-capped gold NPs. The set of analysed samples shows different microstructures at the nanoscale with different proportions of An atoms bonded either to S or to Au atoms. It has been experimentally shown that the presence of a ferromagnetic-like behaviour is associated to the formation of NPs with simultaneous presence of Au-Au and Au-S bonds. In order to explain such magnetic behaviour a possible model is proposed based on the spin-orbit coupling so that localized charges and/or spins (Au-S bonds) can trap conduction electrons (Au-Au bonds) in orbits. (c) 2006 Acta Materialia Inc. Published by Elsevier Ltd. All rights reserved.
Description
© 2006 Acta Materialia Inc. Published by Elsevier Ltd. XAS facilities at BM29 in ESRF and the technical support rom G.L. Ciatto are acknowledged. Financial support from the Spanish MEC (NAN2004-09125-C07) and ''Junta de Andalucía'' is also acknowledged. E. Guerrero thanks the Spanish MEC for financial support.
Collections