Publication:
Papel de los RNAs no-codificantes de proteínas en el metabolismo lipídico intestinal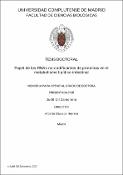 Files
Authors
Advisors (or tutors)
Editors
Publisher
Universidad Complutense de Madrid
Abstract
La dieta desequilibrada es uno de los principales orígenes de las alteraciones metabólicas y la enfermedad cardiovascular. Pese a los avances en la prevención y el tratamiento de las dislipidemias, se intentan desarrollar nuevas terapias para su tratamiento o para reducir la absorción de lípidos. Los microRNAs (miRNAs) son elementos clave en la modulación de la expresión génica a nivel postranscripcional. Se localizan intracelular y extracelularmente, sirviendo como moléculas de señalización, siendo capaces de reflejar cambios fisiológicos y verse alterados en gran variedad de enfermedades. Además, su capacidad para regular simultáneamente diferentes genes da idea de la importancia de la actividad de los microRNAs en la regulación de multitud de procesos biológicos, tanto en la homeostasis como el desarrollo de la enfermedad. Aunque su papel en la regulación del metabolismo del colesterol y lípidos en diferentes tejidos se ha determinado con anterioridad, su conocimiento a nivel intestinal todavía es limitado. En este trabajo investigamos la importancia de los microRNAs a nivel intestinal utilizando un modelo de ratón (Mus musculus) knockout para Dicer1 específico de intestino, a través del cruce de dos líneas de ratones transgénicos (ratones Dicer1loxP/loxP con ratones Villin-cre). Con estos cruces se generó un KO condicional-espacial en el cual se produce la expresión controlada del gen de la recombinasa Cre bajo el promotor Villin, evaluándose el papel de los miRNAs en el enterocito y el metabolismo lipídico. Para ello se realizó un análisis de la expresión génica por PCR a tiempo real utilizando un array de genes implicados en el metabolismo de lipoproteínas y colesterol. Observamos una disminución de la mayoría de genes incluidos en el array, exceptuando Soat-1, Olr-1 y Hmgcs2. El estudio de la expresión proteica mediante Western blot para estos tres genes confirmó el aumento observado para OLR-1 y HMGCS2. Mediante diferentes herramientas informáticas se identificaron miRNAs candidatos para su evaluación, y que tienen como diana estos genes. Por otro lado se caracterizó el modelo animal KO en relación al peso y diferentes marcadores intestinales, así como su respuesta en condiciones de lipemia postprandial, realizando un análisis de los lípidos plasmáticos, intestinales y hepáticos. Los animales KO presentaron un menor peso, una disminución en los marcadores del mantenimiento y estado de maduración del intestino, así como una alteración en el procesamiento de los triglicéridos de la dieta...
An unbalanced diet is one of the main contributors to metabolic disorders and cardiovascular diseases. Despite the great advances made on prevention and treatment of dyslipidemias, researchers try to develop new therapies for their treatment as well as to reduce lipid absorption. MicroRNAs (miRNAs) are key elements in gene expression modulation at posttranscriptional level. They are located within the cells and extracellularly, act as signaling molecules, reflect physiological changes and are altered in a variety of diseases. In addition, their ability to simultaneously regulate different genes shows the relevance of the activity of miRNAs in the regulation of biological processes, both in homeostasis and in the development of diseases. Although their role in the regulation of cholesterol and lipid metabolism in different tissues has been previously established, their function at intestinal level is still elusive. In this work, we addressed the importance of miRNAs at the intestinal level using a knockout (KO) mouse model (Mus musculus) for intestine-specific Dicer1, by crossing two lines of transgenic mice, Dicer1loxP/loxP mice with Villin-cre mice. Therefore, a conditional-spatial KO has been generated, in which controlled expression of the Cre recombinase gene is under the Villin promoter, evaluating the role of miRNAs in the enterocyte and lipid metabolism. To evaluate this, analysis of gene expression by real-time PCR was performed using an array of genes involved in the lipoproteins and cholesterol metabolism. We observed a decrease in the majority of genes included in the array, with the exception of Soat-1, Olr-1 and Hmgcs2. The study of protein expression - by Western blot - of these three genes confirmed the increment observed for OLR-1 and HMGCS2. Through different bioinformatic tools, miRNAs that target these genes were identify for their evaluation. On the other hand, the KO mouse model was characterized in relation to weight and different intestinal markers, as well as its response under conditions of postprandial lipemia, performing an analysis of plasma, intestinal, and hepatic lipids. The KO animals showed a lower weight, a decrease in markers of integrity maintenance and maturation status of the intestine, as well as an alteration in the processing of triglycerides...
Description
Tesis inédita de la Universidad Complutense de Madrid, Facultad de Ciencias Biológicas, leída el 29/09/2020
Collections