Publication:
Fiestas tradicionales y construcción de identidades: la música en la Semana Santa de Mompox y las Corralejas de San Juan Nepomuceno, Bolívar, Colombia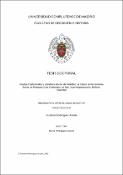 Files
Authors
Advisors (or tutors)
Editors
Publisher
Universidad Complutense de Madrid
Abstract
Las celebraciones tradicionales populares constituyen una vía de aproximación al reconocimiento de las culturas. Mediante ellas, es posible observar rasgos identitarios, históricos, materiales e ideacionales de una población determinada, debido a que estas expresiones no suceden al margen de su contexto. Es por esa razón que este trabajo se aproxima a hechos festivos como la Semana Santa de Mompox y las Fiestas de Corraleja de San Juan Nepomuceno, en el Departamento de Bolívar: dos de las celebraciones tradicionales populares que conforman tópicos identitarios de la Región Caribe de Colombia heredados de "la Madre Patria". Lo religioso y lo taurino, se valoran desde la participación colectiva y ceremonial –a través de los presupuestos de la fiesta como categoría de estudio de la antropología y la sociología– junto a los procesos de transformación de las tradiciones, el concepto de identidad y las funciones de la fiesta en la sociedad y la música en el acto de la celebración.Esta propuesta tiene como finalidad ofrecer una perspectiva completa sobre cómo aproximarse a los hechos festivos tradicionales populares, teniendo en cuenta los componentes socioculturales, políticos, económicos, las prácticas y los repertorios musicales interpretados por las agrupaciones que corresponden a bandas de viento. En esta tesis no se examina el hecho musical de manera aislada. Todo lo contrario, se estudia sus implicaciones en el entramado social y su repercusión en las poblaciones celebrantes, pero sin dejar de lado el análisis descriptivo de la música y sus relaciones performativas con el acto de la celebración.
Popular traditional celebrations constitute a way of approaching the recognition of cultures. Through them, it is possible to observe identity, historical, material and ideational features of a given population, due to the fact that these expressions do not take place outside their context. It is for this reason that this work approaches festive events such as the Holy Week of Mompox and the Fiestas de Corralejas of San Juan Nepomuceno that take place in the Department of Bolívar: two of the popular traditional celebrations that make up identity topics of the Caribbean Region of Colombia inherited from "the Motherland". The religious and the bullfighting, are valued from the collective and ceremonial participation -through the assumptions of the celebration as a category of study of anthropology and sociology- together with the processes of transformation of traditions, the concept of identity and the functions of celebration in society and music in the act of celebration.This proposal aims to offer a complete perspective on how to approach popular traditional festive events, taking into account the socio-cultural, political, economic components, practices and musical repertoires performed by the groups that correspond to wind bands. This thesis does not examine the musical event in isolation. Rather, it studies its implications in the social context and its repercussion on the celebrating populations, but without leaving aside a descriptive analysis of the music and its performative relations with the act of celebration.
Description
Tesis inédita de la Universidad Complutense de Madrid, Facultad de Geografía e Historia, leída el 06/06/2022. Tesis retirada por expreso deseo del autor.
Collections