Publication:
Riesgos ambientales, antrópicos y tecnológicos en Panamá: estudio de casos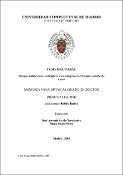 Files
Authors
Advisors (or tutors)
Editors
Publisher
Universidad Complutense de Madrid
Abstract
En el presente trabajo de investigación se localizan varios puntos de gran importancia, en primer lugar, la parte conceptual sobre riesgo ambiental, antrópico y tecnológico, que posteriormente y a partir del estado del arte sirve para llegar a concluir que el riesgo tecnológico en realidad no existe sin el antropogénico, por lo que queda establecido como riesgo antrópico-tecnológico. Se define mediante una primera aproximación, el concepto de riesgo mediante la herramienta Delphi, con la finalidad de poder establecer un esquema del cual no se pueda eludir por ser objetivo e imparcial, debido a que se incorpora la estadística otorgándole el sentido objetivo del caso. Después de enmarcar los aspectos puramente conceptuales, sobre los riesgos ambientales, riesgos antrópicos-tecnológicos, se centra la atención del estudio en el problema de la inundación constante de la ciudad de Colón, uno de los terminales entrada/inicio del Canal de Panamá. La búsqueda, del impacto del Canal de Panamá y el tercer juego de esclusas del mismo en lo referente a lo ambiental y antrópico-tecnológico, se ve obstruido por lo financiero-económico, lo cual marca el rumbo según la ACP del nuevo enfoque de dicho canal, según declaraciones de las propias autoridades encargadas de su gestión. En otras palabras, se ha desviado la percepción desde el punto de vista geopolítico, hacia un enfoque financiero-económico. El enfoque antes mencionado, se contrasta a través de la hipótesis sobre lo ambiental y antrópico-tecnológico y se escribe sin concluir, que existen tratados que demuestran lo contrario y que de hecho la invasión de Panamá es ejecutada precisamente por considerar que el Canal de Panamá tiene ribetes geopolíticos, capaz de fomentar los hechos que se dieron. Además, se ha utilizado en la presente investigación el Índice de sostenibilidad conocido como huella hídrica como elemento esencial para conocer el uso directo e indirecto del agua y su papel en la sostenibilidad económica, social y ambiental del área de estudio. Además, se han analizado las causas de las recurrentes inundaciones en la región y el papel que juegan en los riesgos ambientales y antrópico-tecnológicos en Panamá. Para ello se ha tomado como punto de partida temporal el comienzo y concreción de la construcción del Canal de Panamá hasta nuestros días, con especial atención en el impacto del tercer juego de esclusas del mismo.
This research focuses on the development of environmental, anthropic and technological risks. The state of the art of this research shows strong evidence supporting a composite link between anthropic and technological risks. Therefore, there is an associate technological risk to every anthropic risk. Delphi technique is used to establish a more realistic risk definition. This well known technique is based on a statistical method which considerably reduces ambiguous definitions for risk management. This unambiguity allows a direct implementation of the flooding problem in Colon City, the main marine terminal on the Caribbean side of the Panama Canal. The appropriate environmental risk analysis of the Panama Canal expansion project may potentially show a lack of rigorousness due to financial and economical reasons. According to statements from the Panama Canal Authority (PCA), this fact is supported since they have changed their business point of view from a geopolitical to a financial-economical one. This point of view from the PCA is proven against the anthropic-technological hypothesis and shows that such a way of thinking presents contradictions if previous geopolitical reasons like treaties (i.p: neutrality treaty, 1978) and the military invasion by Americans (i.p: just cause,1989) are taken into account. These instances have shown that the Panama Canal has the potential to unleash geopolitical unbalance. The water footprint is used to verify both the hypothesis and the project sustainability. This research concludes with the investigation of the flooding problem due to environmental, anthropic and technological risks in Panama, taking as a refenrence point the railway construction for the Panama canal until presents days. In addition, the water footprints study also analyzes the development and sustainability associated with the Panama canal expansion project...
Description
Tesis inédita de la Universidad Complutense de Madrid, Facultad de Derecho, leída el 29-06-2017
Collections