Publication:
Estudio de estabilidad de las soluciones de carboplatino utilizadas en los protocolos de desensibilización hospitalarios. Análisis de uso en la práctica clínica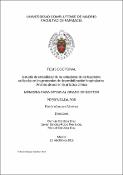 Files
Authors
Advisors (or tutors)
Editors
Publisher
Universidad Complutense de Madrid
Abstract
Las reacciones de hipersensibilidad (RH) a carboplatino suponen un gran desafío en el manejo de los pacientes con cáncer de ovario. Los protocolos de desensibilización a carboplatino (PDC) basados en la reintroducción gradual de pequeñas cantidades de fármaco hasta alcanzar las dosis terapéuticas completas se han posicionado como una práctica segura y efectiva para continuar el tratamiento cuando sea necesario en pacientes que hayan desarrollado RH previas. Uno de los PDC más utilizado es el propuesto por Castells et al. (1–3) basado en tres soluciones (X/100 mg, X/10 mg y X mg, siendo X la dosis terapéutica total para cada paciente) que se administran en doce pasos aumentando de forma progresiva la velocidad de infusión. Sin embargo, existen, y se utilizan en la práctica clínica habitual distintos PDC que varían en cuanto a la validación del protocolo, pasos que requieren, concentraciones de las soluciones, medios de dilución, velocidad de administración e intervalos de tiempo que pueden oscilar entre 2 y 16 horas (3–7)...
The management of hypersensitivity reactions (HSRs) is one of the major clinical challenges when treating patients with relapse/recurrent ovarian malignancies.Desensitization protocols allow the continuation of treatment in patients who have presented HSRs by gradually re-introducing small amounts of the drug up to full therapeutic doses and desensitization offers an effective and safe way to keep the treatment in patients who have presented HSRsOne of the most used carboplatin desensitization protocol proposed by Castells et al. Is based on three solutions that are delivered in 12 consecutive steps with increasing infusion rates. However, several desensitization protocols have been successfully implemented in clinical practice but these published protocols are heterogeneous and vary in terms of safety, administration times, number of dilutions, solvents, effectiveness, and validation. In addition, carboplatin stability seems to depend on concentration and a reasonable doubt on the stability of diluted concentrations used in these protocols arises because the lack of information when carboplatin concentration is below 0.5mg/mL as indicate the drug manufacturer...
Description
Tesis de la Universidad Complutense de Madrid, Facultad de Farmacia, leída el 15-01-2019
Collections