Publication:
El ejercicio de la democracia en las organizaciones de participación: la administración de justicia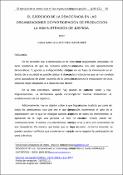 Advisors (or tutors)
Editors
Publisher
Facultad de Ciencias Económicas y Empresariales. Escuela de Estudios Cooperativos
Abstract
Se ha conocido que la democracia se ha visto trastocada, tergiversada, amputada. Se tiene constancia de que los sistemas políticos convencionales son sólo aparentemente democráticos. Y, gracias a la disponibilidad de participar en los flujos de información en el ámbito de la sociedad es posible atisbar el derrumbe de las instituciones que se han revelado como abusadoras de poder, ladronas de la democracia. Se vislumbra la instauración de otros sistemas mejor adaptados a la situación más reciente. En la vida económica, también hay abusos de autoridad, de poder y hay tergiversaciones. La democracia queda circunscrita y, con muchas limitaciones, al establecimiento de los objetivos. Adicionalmente, hay un objetivo sobre la que hay un consenso implícito por parte de todos los participantes, sea cual sea el tipo de organización: incrementar el valor de la organización; con lo que se consigue atender a los objetivos de todos los intervinientes, la aplicación de la regla una persona un voto no es necesario. Incluso puede ser contraproducente, al menos, coyunturalmente, mientras que unos y otros son conscientes de ese beneplácito. De manera que hasta que se llega a esa situación, de forma inducida, se pueden producir conflictos que conviertan en un juego de suma negativa la participación de unos y de otros. Siendo pequeño el margen de maniobra para la toma de decisiones de manera democrática y siendo necesaria la restitución de derechos, las organizaciones se pueden dotar de sistemas de administración de justicia al margen de los convencionales, con las debidas garantías, para recomponer el sentido amplio de la democracia que alcanza también a la justicia, y es particularmente relevante en el ámbito de las organizaciones de producción, y más aún, en las de producción de participación.
It has been known that democracy has been disrupted, distorted, amputated. There is evidence that conventional political systems are only apparently democratic. And, by the way of the availability to participate in the flows of information in the field of society can be glimpsed the institutions collapse that have been revealed as power abusers, democracy thieves. It envisions the establishment of other systems better adapted to the latest situation. In economic life, there are also abuses of authority, of power and no misrepresentations. Democracy is circumscribed and, with many limitations, the establishment of objectives. Additionally, as there is an objective on which there is an implicit consensus by all participants, regardless of the type of organization: increasing the value of the organization which is achieved to meet the objectives of all involved, the application of one person one vote rule is not necessary. It may even be counterproductive, at least circumstantially, while oth are aware of that pleasure. So until you get to that situation, so induced, conflicts can occur that turn into a negative-sum game involving one or the other. Still little room for democratic decision making and still required the restoration of rights, organizations can provide themselves justice systems outside of conventional ones, with appropriate safeguards, to restore the broad sense of democracy also reaching justice, and are particularly relevant in the field of production organizations, and even more in the participation ones.
Collections