Publication:
Materiales termoeléctricos, calcogenuros y pnicturos, con nuevas fenomenologías : síntesis y caracterización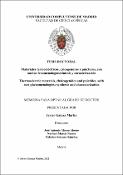 Authors
Advisors (or tutors)
Editors
Publisher
Universidad Complutense de Madrid
Abstract
Durante las últimas décadas, la demanda de energía a nivel mundial no ha hecho más que aumentar año tras año, siguiendo una tendencia imparable que origina la necesidad social de una mejor gestión de la energía. Del total de energía generado en el planeta, se estima que dos terceras partes se pierde en forma de calor, por lo que el aprovechamiento de esta energía desperdiciada podría suponer una contribución relevante a la hora de conseguir una mayor eficiencia energética. Los generadores termoeléctricos, dispositivos capaces de transformar calor en energía eléctrica de manera directa y reversible, podrían ayudar en esta tarea. Estos generadores no presentan partes móviles, apenas requieren mantenimiento, y ofrecen una fiabilidad mucho mayor que la mayoría de los sistemas tradicionales de generación de energía. No obstante, existen aún algunos problemas que hay que superar antes de que esta tecnología se extienda de manera universal, principalmente, su baja eficiencia, que ronda actualmente el ~5%. Esta eficiencia depende de la conocida como figura de mérito termoeléctrica, definida como ZT = S2σT/κ, donde S es el coeficiente Seebeck, σ la conductividad eléctrica, κ la conductividad térmica y T la temperatura absoluta...
In recent decades, worldwide energy demand has increased year after year, following an unstoppable trend bringing about a societal need for better energy management. An estimated two thirds of the total energy production turns into waste heat, representing a tantalizingly significant contribution to achieve greater energy efficiency. Thermoelectric generators, devices capable of transforming heat into electrical energy directly and reversibly, could thus have a strong impact. These generators have no moving parts, require minimum maintenance, and are much more reliable than most traditional power generation systems. However, there are still some problems that need to be overcome before this technology becomes widespread, chiefly its low efficiency, which is currently around ~5%. This efficiency depends crucially on the material thermoelectric figure of merit, ZT = S2σT/κ, where S stands for Seebeck coefficient, σ for electrical conductivity, T for absolute temperature, and κ for total thermal conductivity...
Description
Tesis inédita de la Universidad Complutense de Madrid, Facultad de Ciencias Físicas, leída el 05-07-2022
Collections