Publication:
La serie autorretratos de Rodrigo Flechoso: estudio de caso en torno a las problemáticas de la resina de poliéster insaturado y la entrevista al artista como fuente de documentación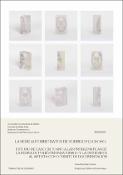 Authors
Advisors (or tutors)
Editors
Abstract
El presente Trabajo de Fin de Grado se encuadra en el ámbito de la Conservación y Restauración del Patrimonio Cultural y aborda el estudio de la serie de Autorretratos (2016) del artista Rodrigo Flechoso. El estudio de estas piezas permite abordar por una parte las problemáticas asociadas al uso de resina poliéster transparente, y por otra parte contrastar la metodología de trabajo que implica situar al artista como fuente primaria de documentación. La investigación se enfoca tanto en la dimensión material de las piezas como en su marco conceptual con el fin de realizar una propuesta de conservación adecuada que contemple además la opinión del propio artista y los criterios de conservación restauración de arte contemporáneo. Para profundizar en dichos aspectos se somete la serie de Autorretratos a un examen técnico con su respectivo estudio de conservación, se indaga acerca de la trayectoria del artista y su producción, y se exploran distintas metodologías actuales de tratamiento de poliéster insaturado, material del que derivan los problemas de conservación. Durante los últimos años, grandes museos internacionales y otras instituciones han desarrollado proyectos relacionados con los materiales plásticos o cursos de formación sobre la conservación de materiales modernos, no obstante, todavía quedan muchos aspectos de los polímeros sintéticos por investigar. En el terreno de la conservación disponemos de numerosos artículos publicados acerca de la composición, fabricación y reciclaje de este tipo de materiales, pero hay una carencia significativa en lo relativo a su degradación y restauración.
This Final Degree Project falls within the scope of the Conservation and Restoration of Cultural Heritage and addresses the study of the series of Self-Portraits (2016) by the artist Rodrigo Flechoso. The study of these pieces makes it possible to address, on the one hand, the problems associated with the use of transparent polyester resin, and, on the other hand, to contrast the work methodology that implies placing the artist as the primary source of documentation. The research focuses both on the material dimension of the pieces and on their conceptual framework in order to make an adequate conservation proposal that also contemplates the artist's own opinion and the conservation-restoration criteria of contemporary art. To delve into these aspects, the series of Self-Portraits is subjected to a technical examination with its respective conservation study, inquiring about the artist's career and his production, and exploring different current methodologies for the treatment of unsaturated polyester, the material from which they derive conservation problems. In recent years, large international museums and other institutions have developed projects related to plastic materials or training courses on the conservation of modern materials, however, there are still many aspects of synthetic polymers to investigate. In the field of conservation we have numerous published articles about the composition, manufacture and recycling of this type of material, but there is a significant lack regarding its degradation and restoration.