Publication:
Utilidad de la radiografía simple de tórax para el diagnóstico de la patología pulmonar aguda en una unidad de cuidados intensivos: comparación de sus hallazgos con la autopsia clínica como estándar de referencia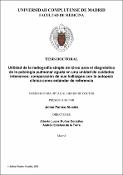 Files
Authors
Advisors (or tutors)
Editors
Publisher
Universidad Complutense de Madrid
Abstract
La radiografía de tórax portátil (RTP) continúa desempeñando un papel esencial en las unidades de cuidados intensivos (UCI). La RTP se utiliza para diagnosticar y monitorizar una gran variedad de procesos cardiopulmonares, para evaluar la posición de un amplio rango de dispositivos torácicos y para vigilar la aparición de complicaciones. A pesar de sus limitaciones, la RTP proporciona información diagnóstica valiosa y puede revelar anomalías no sospechadas clínicamente. La RTP en los pacientes críticos plantea un desafío tanto para los intensivistas como para los radiólogos y se requiere de amplia experiencia para evitar interpretaciones erróneas de las diversas enfermedades torácicas que pueden presentarse en el entorno de la UCI. Otra limitación del diagnóstico radiológico es la variabilidad interobservador, que conduce a una disminución de la fiabilidad de los informes radiológicos. El objetivo principal de este estudio fue evaluar el valor diagnóstico de la RTP en los pacientes con ventilación mecánica en la UCI utilizando los hallazgos post mortem como el estándar de oro. Un segundo objetivo fue evaluar el acuerdo interobservador entre intensivistas y radiólogos...
The portable chest radiograph (CXR) still plays today a crucial role in in the intensive care units (ICU). Portable chest radiograph is the most commonly requested examination performed in the ICU, serves to diagnose and monitor a wide variety of cardiopulmonary disorders and to evaluate a broad range of thoracic medical devices. Despite its limitations, portable chest radiograph provides valuable diagnostic information and can reveal abnormalities that may have not been previously detected clinically. The portable chest radiograph of critically ill patients poses a challenge for the intensive care physicians and for the radiologists, requiring extensive experience to avoid misinterpretation of the diverse chest diseases that can occur in the ICU environment. Nonetheless, another limitation of radiologic diagnosis is interobserver variability, which leads to a decrease in the reliability of radiological reports. The main purpose of this study was to assess the diagnostic value of portable chest radiograph in mechanically ventilated patients taking post mortem findings as the gold standard. A second objective was to evaluate the interobserver agreement amongst intensivists and radiologists...
Description
Tesis inédita de la Universidad Complutense de Madrid, Facultad de Medicina, Departamento de Radiología, Rehabilitación y Fisioterapia, leída el 17/02/2021
Collections