Publication:
Aplicación para Centros de reconocimiento médico para conductores : Telemáticos (CRCT)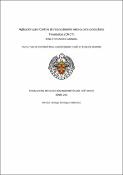 Authors
Advisors (or tutors)
Editors
Abstract
Este proyecto se desarrolla con el fin de mejorar la relación entre los ciudadanos y la Administración Pública, permitiendo realizar de manera electrónica la gestión de los informes de reconocimiento médico necesarios para la emisión del permiso de conducir. De esta forma, el certificado de aptitud psicofísica realizado en el Centro de reconocimiento de conductores se enviará electrónicamente a la Dirección General de Tráfico, pudiéndose realizar además los trámites de renovación y recuperación del permiso, lo que no hará necesario que el ciudadano se persone en la Jefatura Provincial de Tráfico de su provincia. También se simplificará la relación de los centros médicos con la Dirección General de Tráfico, al desaparecer totalmente el papel y permitir su interacción bien por una aplicación web, bien mediante servicio web si dispone de un aplicativo que implemente su gestión. La aplicación también implementará un módulo que permitirá a la DGT la gestión de todos los informes médicos y tramites que reciba de los diferentes centros médicos a nivel nacional mejorando su gestión y permitiendo un control más preciso de su actividad. Para el desarrollo de esta aplicación partiremos de una toma de requisitos con los diferentes usuarios involucrados, para conseguir entender toda la funcionalidad que debe cubrir el sistema y los problemas que tienen en su operativa actual. Una vez tengamos claro "¿Qué debe hacer?" nuestro sistema abordaremos el "¿Cómo?", siguiendo el proceso de construcción del software adoptado en la DGT, basado en la metodología METRICA v3 para las Administraciones Públicas, Proceso Unificado de Desarrollo y que garantiza la calidad del software mediante un departamento independiente de Calidad que realiza auditorías de todos los entregables y aplica el plan de pruebas definido. Este proceso de construcción del software ha obtenido en el año 2012 la certificación CCMI-ACQ nivel 3. Aplicando este proceso, se evolucionarán los requisitos a través de modelos y diagramas para conseguir una especificación que permita generar una aplicación funcionalmente completa, probada, robusta y útil. El sistema producirá una mejora en la satisfacción de los ciudadanos: evitando desplazamientos innecesarios, fomento de la administración electrónica, reducción de tiempos y esperas y como punto más importante mejora de la calidad de vida de las personas con diversidad funcional fomentando las políticas de igualdad.
In order to improve the relationship between citizen and public administration this project is developed to allow making online the complete management of medical reports needed to the expedition of the driving license. In this way, the certificate of psychophysics aptitude made in the driver evaluation center would send the reports online to DGT (Traffic General Direction). It will allow making some frequent procedures as licenses renewal and recover, which will avoid the citizens to arrive to the Provincial Traffic headquarters. It will be also simplified the relation between the medical centers and the DGT, due to the complete removal of paper support and also allow its interaction using a web application or by means of web service if it arranges a management application. The application will also implement a module which will allow DGT the management of every medical reports and procedures received from any of the Spanish medical center, improving the management and allowing a more precise control of their activity. We start from requirements elicitation from the different stakeholders involved, in order to understand the covering whole system functionality and the current problems. Once our system "what to do" is clear, we'll present the "how", following the software construction process adopted by DGT, based on Metrica V. 3 for the public administration methodology, RUP (Rational Unified Process) guaranteeing the software quality through an independent quality department which will carry out audits about every deliverables and applies the defined test plan. This software construction process has obtained in the year 2012 the CCMI-ACQ level 3 certification. Applying this process, it will evolve those requirements through models and diagrams to obtain a complete specification which will generate a complete functionality, tested, robust and useful. The system will introduce an improvement in citizens' satisfaction, avoiding unnecessary displacements, online administration encouragement times and waiting time reduction and as the strongest point, a life quality improvement of handicapped people, promoting equality politics.
Description
Trabajo de Fin de Grado en Ingeniería del Software (Universidad Complutense, Facultad de Informática, curso 2013/2014)