Publication:
Architectural Heritage in Spain: New technologies, challenges and opportunities for the educational and professional framework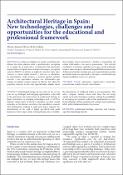 Advisors (or tutors)
Editors
Publisher
Grupo Español de Conservación del International Institute for Conservation, Asociación de Conservadores Restauradores de España
Abstract
Los cambios tecnológicos de nuestra sociedad en los últimos diez años plantean retos y oportunidades emergentes en el campo de la protección y conservación del patrimonio arquitectónico en España. Innovaciones o tecnologías emergentes como los MOOCs (acrónimo en inglés de «Massive Online Open Courses» o Cursos online masivos y abiertos) en educación, las denominadas «redes sociales» o internet, pueden permitir conectar a los especialistas urbanos con profesionales que trabajan en ámbitos rurales, mejorar la difusión del trabajo de pequeñas empresas locales muy especializadas, adaptar mejor determinados marcos formativos o facilitar la transmisión de los oficios tradicionales a las nuevas generaciones. Este artículo compara las actuaciones españolas con las que se están realizando en otros países europeos, valorando las posibilidades de desarrollo de las competencias necesarias para que los profesionales puedan aprovechar mejor sus capacidades y sinergias y considerando qué iniciativas públicas favorecen el proceso.
Technological changes in our society in the last ten years set up challenges and emerging opportunities in the field of the protection and conservation of architectural heritage in Spain. Innovations or emerging technologies such as MOOCs (Massive Online Open Courses) in education, so-called ≪social networks≫ or the Internet, can allow urban specialists to connect with professionals working in rural areas topics, improve the dissemination of the work of highly specialized local small businesses, better adapt certain training frameworks or facilitate the transmission of traditional trades to new generations. This article compares Spanish actions with those that are being carried out in other European countries, valuing the possibilities of developing the necessary skills so that professionals can take better advantage of their capacities and synergies and considering which public initiatives stimulate the process.
Collections