Publication:
Post T Tauri stars in the solar neighborhood: isolated or members of young associations and moving groups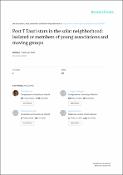 Advisors (or tutors)
Editors
Publisher
American Institute of Physics
Abstract
Post T Tauri stars (PTTS) are late-type stars in the age range between 10 and 100 Myr filling the gap between T Tauri (TTs) and zero-age: main sequence phases. This period of evolution remains ambiguous and until now different studies of young stars have failed to find the numbers of PTTS that are expected. In the last years, some PTTS have been identified among the X-ray detected pre-main sequence stars in some star-forming regions. More recently, additional PTTS have been identified in young associations and moving groups (β Pic, TW Hya, Tucana/Horologium, and the AB Dor). However, many isolated PTTS still remain undiscovered. In this contribution, we compiled the PTTS previously identified in the literature, and identified new candidates using the information provided by the high resolution spectra obtained during our surveys of late-type stars possible members to young moving groups, FGK stars in the solar neighborhood, and RasTyc sample. To identify PTTS we applied an age-oriented definition using relative age indicators (Li abundance, chromospheric and coronal emission and the kinematics) as well as color-magnitude diagrams and pre-main sequence isochrones.
Description
© 2009 American Institute of Physics. Cambridge Workshop on Cool Stars, Stellar Systems and the Sun (15th. 2008. St Andrews, Escocia). This work was supported the Spanish Ministerio de Educación y Ciencia (MEC), Programa Nacional de Astronomía y Astrofísica under grants AYA2005-02750 and AYA2005-00954, and the "Comunidad de Madrid" under PRICIT projects S-0505/ESP- 0237 (ASTROCAM) and S-0505/ESP/000361 (ASTRID).
Citation
1. Guillout, P., Schmitt, J. H. M. M., Egret, D., et al. 1999, A&A, 351, 1003 2. Guillout, P., Klutsch, A., Frasca, A., et al. 2008, A&A, in preparation 3. López Santiago, J. 2005, PhD, UCM 4. López Santiago, J., Montes, D., Crespo Chacón, I., & Fernández Figueroa, M. J. 2006, ApJ, 643, 1160 5. Klutsch, A., Guillout, P., Frasca, A., et al. 2008, The 14th Cool Stars, Stellar Systems and the Sun workshop, van Belle, G., ed., ASP conf. Ser., V. 384 6. Maldonado, J., Martínez Arnáiz, R. M., Eiroa, C., Montes, D. 2008, The 15th Cool Stars, Stellar Systems and the Sun workshop, AIP Conference Proceedings Series, this volume 7. Martín, E. L. 1997, A&A, 321, 492 8. Martínez Arnáiz, R. M., Maldonado, J., Montes, D., et al. 2008, The 14th Cool Stars, Stellar Systems and the Sun workshop, van Belle, G., ed., ASP conf. Ser., V. 384 9. Martínez Arnáiz, R. M., Maldonado, J., Montes, D., et al. 2008, The 15th Cool Stars, Stellar Systems and the Sun workshop, AIP Conference Proceedings Series, this volume 10. Montes, D., López Santiago, J., Gálvez, M. C., et al. 2001, MNRAS, 328, 45 11. Montes, D., López Santiago, J., Fernández Figueroa, M. J. et al. 2001, A&A, 379, 976 12. Montes, D., López Santiago, J., Crespo Chacón, I., et al. 2008, The 14th Cool Stars, Stellar Systems and the Sun workshop, van Belle, G., ed., ASP conf. Ser., V. 384 13. Zuckerman, B., & Song, I. 2004, ARA&A, 42, 685
Collections