Publication:
"Los escaladores de nubes". Una búsqueda más allá de la forma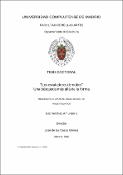 Files
Authors
Advisors (or tutors)
Editors
Publisher
Universidad Complutense de Madrid
Abstract
Considero este trabajo como un experimento -mitad estudio, mitad ejercicio creativo- no sólo por los temas que aborda y que se aúnan en una suerte de "escalada" situada "más allá de la forma", sino también por la naturaleza incierta de los objetivos que plantea: tratar de definir un símbolo o un mito, tratar de comprender cómo la razón surge a partir de su evolución, y, sobre todo, identificar el papel del artista en este campo de relaciones. Con este fin incorpora términos como "otredad", "ámbito" o "inversión". Gracias a ellos podemos acercarnos a esa particular manera de ver y experimentar del artista. Si en principio la "otredad" se refiere a todo ese campo de visiones y estados místicos que exceden a nuestro mundo, conforme profundizamos en los objetivos a los que aspira el poeta o el filósofo, opino que tal término ha de ampliarse a esos mismos límites o márgenes indefinidos que a veces se translucen en sus interiorizaciones. Respecto a "ámbito" me refiero a una estandarización de los modos y objetivos con que unos y otros – poetas o filósofos- manifiestan sus interiorizaciones. Ese medio aprendido y diferente al resto desde el cual actúan, y que nos hacen vestirnos de una particular ropa etérea al prestarles atención. Por fin, tomo la "inversión" como el mecanismo psicológico de carácter proyectivo que, al menos en nuestros orígenes, pienso que fue utilizado tanto por el ámbito de la filosofía como por el artístico como procedimiento de acceso a lo que ambos creían una otredad. Esta difusa frontera inicial donde la utilización de tal procedimiento a unos les sirve para profundizar en el aura de la imagen mientras a los otros les sirve como herramienta de abstracción, me llevará a suponer estos dos ámbitos hermanados, hijos de un mismo sentimiento de pérdida, y consecuentemente, de un mismo preguntarse por esta pérdida...
I consider this work as an experiment – half study, half creative exercise- not only because of the issues addressed, which come together in a sort of "escalation" that aims to find something "beyond the form", but also by the uncertain nature of the objectives pursued: to define a symbol or myth, to understand how reason emerges from its evolution, and, above all, to identify the artist's role in these relations between the irrationality of the myth and the reason. To this end, it includes terms as "otherness", "ambit" or "inversion". Thanks to them we can approach the artist's particular way to see and experience. If, at first, the "otherness" refers to that group of diverse mystical visions that surpass our world, as we delve deeper into the objectives the poet or philosopher aspires to, I think that term must be extended to those indefinite limits or margins, which sometimes are revealed in their internalisations. By "ambit" I mean standardisation of methods and objectives with which they - poets and philosophers- express their internalisations; that framework from which they operate, which is learned and different in each case, and which makes us adopt a particular outlook when we pay them attention. Finally, I consider the "inversion" as the psychological mechanism of projective character, that, at least in its origins, I think was used indistinctly by both the philosophy and the art as procedure to access what they both considered an "otherness". This diffuse initial border - where the use of such a procedure helps some to deepen the aura of the image and helps others as a tool for abstraction – will lead me to assume that these two areas are twinned, children of the same sense of loss, and consequently, of the same questions about this loss...
Description
Tesis inédita de la Universidad Complutense de Madrid, Facultad de Bellas Artes, Departamento de Escultura, leída el 12 de enero de 2016
Collections