Publication:
Revisión de la colección de Conulariidae de The Natural History Museum de Londres (Reino Unido)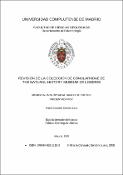 Authors
Advisors (or tutors)
Editors
Publisher
Universidad Complutense de Madrid, Servicio de Publicaciones
Abstract
Con el presente trabajo se pretende avanzar en el conocimiento de los conuláridos, para lo cual se ha accedido a una de las mayores colecciones del mundo y la más diversa de todas: la colección de conuláridos de The Natural History Museum de Londres. Dicha colección abarca 165 yacimientos entre el Reino Unido y 20 países más, con una distribución estratigráfica que va desde el Cámbrico Superior hasta el Triásico Superior. Se han estudiado sistemáticamente 43 especies repartidas en ocho géneros, que incluyen 753 ejemplares de los 1.131 especímenes de los que consta la colección. Se ha analizado su distribución estratigráfica, se ha dado un cuadro sistemático acorde a los estudios actuales, se ha estudiado su morfología, y se ha propuesto una terminología morfológica en español, además de estudiar sus afinidades biológicas que los aproximan a los cnidarios escifozoos Se ha hecho una recopilación histórica de su estudio, desde 1793 hasta la actualidad, en la que se pueden observar cuatro etapas distintas en el estudio de estos organismos. Se ha recopilado toda la información necesaria para realizar el catálogo de la colección, desde un punto de vista sistemático y museístico. Se ha comparado con el resto de las colecciones de conuláridos más importantes del mundo, en cuanto a su distribución geográfica, cronológica, diversidad taxonómica y cantidad de especímenes tipo.[ABSTRAT]The present work seeks to advance our knowledge of the conulariids, for that it has been consented to one of the biggest collections in the world and the most diverse of all: the collection of conulariids of The Natural History Museum of London. This collection contains Specimens from 165 locations among United Kingdom and 20 more countries, from rock units from Late Cambrian to Late Triassic in age. The present study deals with the anatomy, taxonomy, and stratigraphical and geographical distribution of forty three species collectively distributed among eight genera and represented by 753 out of 1,131 specimens of the collection. Their stratigraphical distribution has been analyzed, besides a systematic classification has been showed according to the recent studies. Their morphology has also been studied, and a Spanish terminology for the morphology of conulariids in general is proposed, and for the first time they are compared with the coronatid scyphozoan, Atorella Vanhöffen, 1902. Besides, the reconstruction proposed by Kiderlen (1937: fig. 46A) for a living conulariid is modified with the stalk; on the other hand, the internal cavity has been interpreted graphically, for the first time, considering conulariids as scyphozoans. Analysis of the history of conulariid research, from 1793 to the present, reveals four historical stages in the study of these fossils.
Description
Tesis presentada en la Universidad Complutense de Madrid, Facultad de Ciencias Geológicas, Departamento de Paleontología, leída el, 09-06-2008
Collections