Publication:
Del dibujo de objetos al dibujo como objeto. El modelo de Beuys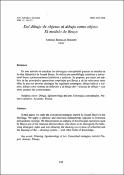 Authors
Advisors (or tutors)
Editors
Publisher
Servicio de Publicaciones de la Universidad Complutense de Madrid
Abstract
En este artículo se estudian las estrategias conceptuales puestas en marcha en la obra dibujística de Joseph Beuys. Se utiliza una metodología semiótica y estructural, frente a planteamientos históricos y estéticos. Se propone un análisis de las principales operaciones empleadas por Beuys y sus relaciones, lo que nos permite distinguir las siguientes estrategias: dibujo indicial e icónico, dibujo como sistema de reflexión y dibujo del -sistema de dibujo- en realación con otros campos del conocimiento. In this paper, we study the conceptual strategies started by Joseph Beuys in his drawings. We apply a semiotic and structural methodology opposite to historical and aesthetic raisings. We then propose an analysis of the principal operations used by Beuys and of the relations between them; this allows us to distinguish the following strategies: index and icon drawing, the drawing as a system of reflection and the drawing of the —drawing system— with other fields of knowledge.
Citation
AA. VV Joseph Beuys, Catálogo Museo Nacional Centro Arte Reina Sofía, Madrid, 1994, BERNICE, R. Joseph Beuys and the Language of Drawing, New York, The Museum of Modern Art, 1993. BUNGE, M. Treatise on Basic Philosophy, VOL III Ontology, 1: The Forniture of the World, Dordredcht, Reidel, 1977. BUNGE, M. Epistemología, Barcelona, Ariel, 1980. BUNGE, M. Intuición y razón, Madrid, Tecnos, 1986. CROCE, B. Estética como ciencia de la expresión y lingüística general, Buenos Aires, Nueva Visión, 1962. ECO, U. Tratado de Semiótica general, Barcelona, Manzano, 1977. ECO, U. Obra abierta, Barcelona, Planeta-Agostiní, 1984. FREUDENTHAL, E. Didactical phenomenology of mathematical structures, Dordrecht, D. Resdel publishing company, 1983. GOODMAN, N. De la mente y otras materias, Madrid, Visor, 1995. GOODMAN, N. Los lenguajes del arte, Barcelona, Seix Barral, 1976. GÓMEZ MOLINA, J. J. (Coor.), Las Lecciones del Dibujo, Madrid, Cátedra, 1995. GÓMEZ MOLINA, J. J. (Coor), Estrategias del Dibujo en el Arte Contemporáneo, Madrid, Cátedra, 1999. GORDILLO, L. Octubre 1980, El proceso del deseo, El Paseante, núm. 8, Madrid, Siruela,1988. GORDON, M. Dadá y Perfomance, New York, 1987. HILDEBRAND, A. VON, El problema de la forma en el arte, Madrid, Visor, 1988. HOFSTADTER, D. R. Gödel, Escher, Bach. Un eterno y grácil bucle. Barcelona, Tusquets & Conacyt, 1992. JUNG, C. G.. Simbología del espíritu, Fondo de Cultura Económica, 1962. KLEE, P. Enfoques del arte moderno, Para una teoría del Arte Moderno, Buenos Aires, Libros de Tierra Firme, 1979. KLEE, P. Bosquejos Pedagógicos, Caracas, Monte Avila, 1974. KOEPPLIN, D. Fluxus: Bewegung im Sinne von Joseph Beuys. Plastische Bilder 1947-1970, Stuttgart, 1990. KOFFKA, K, PrincipIes of Gestalt Psicology, New York, Harcourt Brace, 1935. KRAUSS, R. E. La originalidad de la vanguardia y otros mitos modernos, Madrid, Alianza, 1996. KRAUSS, R. E. La transgresión está en el ojo observador, Creación, núm. 6, págs. 28-48. LEWIN, K. A Dynamic Theory of Personality, Selected Papers, New York, McGraw-Hill Company. MENNEKES, E Beuys en Manresa: Dos crisis y una superación, Granada, Catálogo de la exposición «Aprovechar las Ánimas», 1993. MERLEAU-PONTY, M. Fenomenología de la percepción, Barcelona, Planeta-Agostini, 1984. MOLES, A. Teoría de la información y percepción estética, Madrid, Júcar, 1976. MORRIS, CH. W. Sciencie, Art and technology, The Kenyon Review, Vol. 1, 1939. MORRIS, CH. W. La significación y lo significativo, Madrid, Comunicación serie B, 1974. PANOF5KY, E. El significado de las artes visuales, Buenos Aires, Infinito, 1970. PAREYSON, L. Estetica-Teoria della formativitá, Bolonia, Filosofia-Zanichelli, 1960. PAZ, O. La búsqueda del comienzo, Madrid, Espiral, 1983. PAZ, O. La obra de Marcel Duchamp, Madrid, Alianza Forma/Era, 1989. PEIRCE, CH. S. Collected Papers, 1931-1935. Hartshorne, C.; Weiss, P.; Collected papers of Charles Sanders Peirce, Cambridge (Massachusetts), Harvard University Press, 1967. PEREC, G. Pensar, clasificar, Barcelona, Gedisa, 1986. QUINE, W VAN ORMAN, The Ways of Paradox, and Other Essays, New York, Random House, 1966. RIVIÉRE, A. Razonamiento y representación, Madrid, S. XXI, 1986. SMITHSON, R. El paisaje antrópico. La entropía y los nuevos monumentos. Valencia, Instituto Valenciano de Arte Moderno, 1993. SUPPE, F. The Semantic Conception of Theories and Scientific Realism, Urbana, University of Illinois Press, 1989. TEMKIN, A. Joseph Beuys: Life Drawing. En Thinking is Form. The Drawing of Joseph Beuys, New York, The Museum of Modern Art, 1993. TYSDALL, C. Joseph Beuys, New York y London, 1979. WAGENSBERG, J. Ideas sobre la complejidad del mundo, Barcelona, Tusquets, 1985. WIENER, N. Cybernetics or control and comunication in the animal and tire machine, Massachusetts, MIT Press, 1965.
Collections