Publication:
Narrativas y experiencias sobre la responsabilidad a las víctimas: contribuciones para una educación ética en un contexto de guerra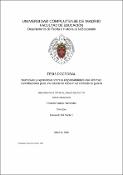 Files
Authors
Advisors (or tutors)
Editors
Publisher
Universidad Complutense de Madrid
Abstract
Esta tesis es el resultado de una investigación sobre la construcción del sentido de responsabilidad y de los compromisos éticos y políticos frente a las víctimas, a partir de las narrativas y las experiencias de vida de dos mujeres y un hombre, quienes tienen una larga trayectoria de trabajo con esta población desde diferentes escenarios sociales: los organismos del Estado, las organizaciones no gubernamentales (ONG) y el trabajo comunitario. Sus narrativas dan cuenta del contexto de violencia y de crisis que persiste en Colombia, así como de los conflictos, angustias y complejidades de vivir y de ejercer su profesión y su trabajo en estas condiciones. La tesis indaga, desde un enfoque de investigación biográfico-narrativo, por las experiencias, los propósitos y los sentimientos de tipo moral, así como por las vinculaciones personales y los marcos de referencia que le dan sentido a los compromisos que motivan a unos sujetos a trabajar en función de la reparación, la defensa y la reivindicación de los derechos de las víctimas. Las preguntas que orientaron esta investigación fueron las siguientes: ¿Cuáles son, en las narrativas de vida de tres sujetos (dos mujeres y un hombre vinculados al sector público, a las ONG y a las organizaciones comunitarias), los sentidos de responsabilidad y los compromisos que reconocen con las víctimas del conflicto armado? A partir de una mejor comprensión de la responsabilidad frente a las víctimas manifestada por estas tres personas ¿Qué implicaciones pedagógicas podríamos deducir para construir una educación ética en contextos de guerra y violencia?...
This investigation is about the sense of responsibility and the ethical and political commitments towards the victims, as they appear in the narratives and the life's experiences of two women and one man, whom have worked several years with victims in different social scenarios: inside state organizations, as part of non-governmental organizations, and as members of organizations from local communities. Their narratives give an account of the context of violence and crisis that persists in Colombia, as well as the conflicts, anguishes and complexities of living and working whit victims under such conditions. The thesis examines, from a biographic-narrative approach, the experiences, purposes and moral sentiments; as well as the personal relations and moral frameworks that give sense to the compromises that motivate specific subjects to work towards the defense, repair and vindication of the victims' and their rights. The following questions guided this research: In the life's narratives of three different subjects (two women and one man, members of state' agencies or NGO); which are the senses of responsibility and the commitments they recognize with the victims of the Colombian armed conflict? From a comprehension of the responsibility toward the victims, as manifested by these three individuals; what pedagogical consequences could we deduced in order to build an ethical formation in contexts of war and violence?...
Description
Tesis inédita de la Universidad Complutense de Madrid, Facultad de Educación, Departamento de Teoría e Historia de la Educación, leída el 30-11-2015
Collections