Publication:
Simulador ARM en el ámbito docente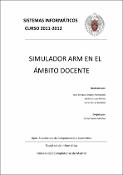 Advisors (or tutors)
Editors
Abstract
El proyecto desarrollado en el ámbito de la asignatura de Proyectos Informáticos surge ante la limitación en el uso de las instalaciones del entorno de aprendizaje ARM-Embest. Una de las dificultades en el aprendizaje del alumnado de las asignaturas del área de Estructura de Computadores surge por la falta de disponibilidad del entorno ARM-Embest. Por un lado, el coste de las licencias se traduce en un número limitado de laboratorios disponibles en la facultad, dificultando la dotación de nuevas instalaciones en la coyuntura económica actual. Por otro lado, el coste del entorno hace imposible su adquisición por parte de los alumnos viéndose obligados a hacer uso de las instalaciones en una franja horaria muy restrictiva ante la demanda de los horarios actualmente. Bajo esta premisa, este proyecto trata de explorar otras opciones que cubran la oferta docente con un coste muy inferior. En este proyecto se investigan opciones basadas en software libre que emulen el comportamiento del entorno ARM-Embest actual. El trabajo que presentamos en esta memoria se basa en la integración de herramientas de emulación/compilación de sistemas ARM, añadiendo un interfaz de comunicación para que cualquier usuario pueda hacer uso de un entorno de aprendizaje alternativo. Por último, en la memoria también se incluyen una serie de prácticas a modo de ejemplos con su código fuente, que hacen uso del sistema emulado ARM y sus periféricos de forma análoga a como están propuestas en la actualidad. [Abstract] The project, developed in the field of Computing Projects subject, arises from the limitations in the use of the facilities of the training environment ARM-Embest. One of the difficulties students have whilst studying subjects relating to Computer Structure is due to the lack of availability of the ARM-Embest environment. On one hand, the cost of licenses results in a limited number of laboratories in the faculty, hindering the provision of new facilities in the current economic climate. On the other hand, the cost of the environment is prohibitive for students who have no other choice than to make use of the facilities within a very restrictive time period, given the current demand on the infrastructure. Given this premise, this project attempts to explore other options to attend the academic requirement, at a much lower cost. This project will investigate options based on free software that emulates the behaviour of the current ARM-Embest environment. The work presented in this paper is based on the integration of ARM system emulation, compiling tools, adding a communication interface such that any users may make use of an alternative educational environment. Finally, the paper also includes a series of practical exercises as examples with source code, that make use of the emulated ARM system and its peripherals in the same way in which they are currently proposed.
Description
Proyecto de Sistemas Informáticos (Facultad de Informática, Curso 2011-2012)
Collections