Publication:
Didáctica de la nutrición vegetal: análisis de los principales manuales de fisiología vegetal y de las concepciones de los estudiantes del Máster Universitario en Formación del Profesorado de ESO y Bachillerato de la UCM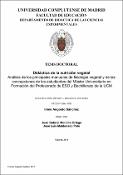 Files
Authors
Advisors (or tutors)
Editors
Publisher
Universidad Complutense de Madrid
Abstract
Dentro de la enseñanza de la biología, el tema de la nutrición vegetal es uno de los más repetidos en todos los niveles y temarios de la mayoría de los países. Sin embargo, a pesar de su importancia, sigue siendo, después de décadas de investigación didáctica, uno de los más conflictivos en el aula tanto en su comprensión como en su asimilación, así como uno de los que más cantidad de concepciones alternativas acumula. Cuando se analizan y discuten las causas parecen destacar la tendencia que tiene el ser humano de comparar los modelos anatómicos y fisiológicos de los diferentes organismos con el modelo antropomórfico sacando así conclusiones alejadas de la realidad, la dificultad intrínseca del proceso por su marcado carácter interdisciplinar al requerir el manejo y la comprensión de una enorme cantidad de conceptos e, incluso, la temporalización incorrecta de los contenidos a lo largo de la enseñanza de Primaria y Secundaria que provocan la ausencia de conocimientos previos necesarios de otras materias, como una buena base de química. En resumen, las causas responden a una malla compleja de muchos factores interconectados lo que hace difícil su estudio y su abordaje en búsqueda de una solución, ya que aislar las variables para ver su efecto parece tarea compleja. Es cierto que las concepciones alternativas con respecto a la nutrición vegetal se suceden en todos los niveles educativos, desde Primaria hasta Bachillerato, incluyendo los libros de texto de todos estos cursos; incluso se ha llegado a postular que algunas de estas ideas alternativas aumentan a medida que se avanza en la formación académica en ciencias, alcanzando, en algunas ocasiones, a los propios profesores...
Within the teaching of biology, the subject of plant nutrition is one of the most often repeated, at all levels and agendas in most countries. However, despite its importance, it remains, after decades of didactic research, one of the most conflicting in the classroom, both in its understanding and its assimilation, as well as one which has accumulated the largest number of alternative conceptions. When the causes are analysed and discussed, what seems to stand out is the human tendency to compare the anatomical and physiological models of the different kinds of organisms with the anthropomorphic model, thus drawing conclusions that are far from reality. The intrinsic difficulty of the process, due to its markedly interdisciplinary character, require the management and understanding of a huge number of concepts, and also the incorrect timing of this content through Primary and Secondary education results in the absence of the necessary prior knowledge of other subjects, such as a good basis in chemistry. In summary, these causes correspond to a complex network of many interconnected factors which makes it difficult to study and approach the subject in search of a solution, since isolating the variables to see their effect seems a complex task. It is true that alternative conceptions regarding plant nutrition occur at all levels of education, from Primary to Baccalaureate, including textbooks of all these courses; It has even been postulated that some of these alternative ideas progress as academic education progresses in science, sometimes reaching the teachers themselves...
Description
Tesis de la Universidad Complutense de Madrid, Facultad de Educación, Departamento de Didáctica de las Ciencias Experimentales, leída el 12/07/2017
Collections