Publication:
Nuevas perspectivas de la radiología intervencionista en el tratamiento de la sialorrea mediante ablación química de las glándulas salivales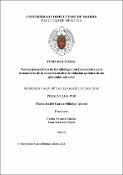 Files
Advisors (or tutors)
Editors
Publisher
Universidad Complutense de Madrid
Abstract
La salivación es un proceso fisiológico dependiente de las glándulas salivales. En reposo, el 70% de la saliva es secretada por las glándulas submaxilares. Sin embargo, bajo estimulación, el flujo salival aumenta, hasta cinco veces, siendo la glándula parótida la principal responsable. La sialorrea se define como un trastorno de la emisión de la saliva consistente en un exceso de producción o en la incapacidad de retención intraoral y deglución de la misma. Esta condición es normal en niños hasta los 15-18 meses de edad y se considera patológica cuando ocurre después de los cuatro años. La causa más frecuente de la sialorrea en los pacientes pediátricos es la disfunción neuromuscular, debido a problemas en la coordinación neuromuscular y en la deglución. Es especialmente prevalente en pacientes con parálisis cerebral infantil (PCI).Desde el punto de vista clínico, los pacientes pueden presentar alteraciones cutáneas peribucales y en la región mentoniana, pobre higiene oral con mayor incidencia de caries dentales y un mayor riesgo de aspiraciones con posibles neumonías asociadas. Así mismo, puede conducir a alteraciones psicológicas y sociales en la vida diaria de los enfermos y familiares. El impacto de la sialorrea en la calidad de vida del paciente es el factor más importante para definir la necesidad de tratamiento...
Salivation is a physiological process dependent on the salivary glands. At rest, 70% of saliva is secreted by the submaxillary glands. However, under stimulation, salivary flow increases, up to five times, with the parotid gland being primarily responsible.Sialorrhoea is defined as a saliva emission disorder consisting of excess saliva production or the inability to retain saliva intraorally and swallow it. This condition is normal in children up to 15-18 months of age and is considered pathological when it occurs after the age of four years.The most common cause of sialorrhoea in paediatric patients is neuromuscular dysfunction, due to problems in neuromuscular coordination and swallowing.It is especially prevalent in children with cerebral palsy (CP).From a clinical point of view, patients may present peribuccal and chin region skin alterations, poor oral hygiene with a higher incidence of dental caries and a higher risk of pneumonia associated with aspiration mechanisms. It can also lead to psychological and social disturbances in the daily lives of patients and their families. The impact of hypersalivation on the patient's quality of life is the most important factor in defining the need for treatment...
Description
Tesis inédita de la Universidad Complutense de Madrid, Facultad de Medicina, leída el 26-11-2021
Collections