Publication:
Estudio de estereotipos de sentimientos desde una perspectiva actual de la lingüística cognitiva sociocultural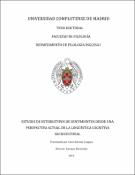 Files
Authors
Advisors (or tutors)
Editors
Publisher
Universidad Complutense de Madrid
Abstract
El presente trabajo tiene como principal objetivo investigar la relación existente entre el lenguaje, las emociones y la forma en la que actuamos, a través de un análisis de algunos estereotipos de sentimientos, desde una perspectiva actual de la lingüística cognitiva sociocultural. Partimos de la consideración de que la conceptualización que hacemos de nosotros mismos está afectada por estereotipos culturales que se codifican a través del lenguaje y que implican emociones y formas de actuar específicas. Los conceptos 여자친구 [yuja cheengu] y 아버님 [ahbuhneem], girlfriend y father o novia y padre, en coreano, inglés y español respectivamente, "se sienten" y "actúan" estereotípicamente de modo diferente en cada lengua y en cada una de sus variantes lingüísticas correspondientes. Nuestra suposición es que los estereotipos de sentimientos, los cuales incluyen acciones específicas, están cargados de una tradición cultural que incluye creencias, costumbres, valores, normas y perspectivas compartidas por una comunidad de hablantes, y tienen la característica de ser estables pero modelables y permanecer en un proceso lento pero continuo de transformación. Estos estereotipos quedan reflejados en la lengua, la cual revela los diferentes mecanismos de conceptualización utilizados...
This thesis aims to investigate the relation between language, emotions and actions through a lexical study of emotive stereotypes from a sociocultural cognitive contemporary perspective. Since the beginnings of Cognitive Linguistics in the late 70s until today, one of the main areas of research has been focused on language and conceptualization. The first studies on this respect (Haiman,1980; Lakoff and Johnson, 1980; Langaker, 1987, among others) soon revelead that every linguistic element reflects the fact that meaning results from the conceptualization of our experience, occurring in contexts with specific cultural models and with the use of different cognitive resources. Language is seen as a tool to organize knowledge and as a via by which the concepts are codified and communicated. In the case of emotions, cognitive linguistics has produced a great number of research, many of which highlight the importance of the metaphorical mecanism in the conceptual organization and undersanding of emotions. Much, however, still remains unknown; for example, in relation to the degree in which culturally salient facets shape emotion concepts or to how emotions terms relate to each other. In order to contribute to this area of study, our reconstruction of the emotive stereotypes is based on a theoretical framework that takes into consideration findings from several disciplines, specially cognitive linguistics and other cognitive sciences including social psycology, linguistic anthropology, etnolinguistics and neurosciences...
Description
Tesis inédita de la Universidad Complutense de Madrid, Facultad de Filología, Departamento de Filología Inglesa I, leída el 13/01/2016
Collections