Publication:
El Marqués de Salamanca y la amortización de los ferrocarriles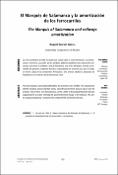 Authors
Advisors (or tutors)
Editors
Publisher
Facultad de Geografía e Historia, UCM
Abstract
La crisis económica de 1866 se abatió con fuerza sobre el sector ferroviario. Los empresarios e inversores, acuciados por las pérdidas, pidieron al gobierno una implicación activa para solucionar el problema. José de Salamanca, uno de los afectados, escribió al presidente del gobierno, el general Narváez, proponiéndole un proyecto para que el Estado se hiciese cargo de las concesiones ferroviarias. Este artículo analiza la propuesta de Salamanca en el contexto de la mencionada crisis. [ABSTRACT]The rail companies were deeply affected by the economic crisis of 1866. The businessmen and the investors, pressed by their losses, asked the government about a way to face the problem. One of them, José de Salamanca, wrote a letter to the president Ramón Narváez suggesting him a project whereby the government took charge of the railways. This article analyses Salamanca's project in the context of the aforemetioned crisis.
Collections