Publication:
Efficient Benzodithiophene/Benzothiadiazole-Based n-Channel Charge Transporters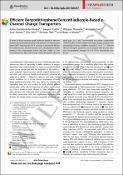 Advisors (or tutors)
Editors
Abstract
A series of donor–acceptor small molecules based on electrondeficient benzothiadiazole (BTD) and electron-rich benzodithiophene (BDT) featuring an A-D-A structure is presented. Exhaustive spectroscopic, electrochemical, and computational studies evidence their electroactive nature and their ability to form well-ordered thin films with broad visible absorptions and low band gaps (ca. 2 eV). Time-resolved microwave conductivity (TRMC) studies unveil unexpected n-type charge transport displaying high electron mobilities around 0.1 cm2V1 s 1 . Efficient electron transport properties are consistent with the low electron reorganization energies (0.11–0.17 eV) theoretically predicted.
Collections