Publication:
Aliados, tránsfugas y barrilitos: las elecciones legislativas de 2010 en República Dominicana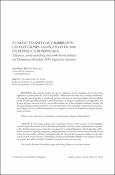 Advisors (or tutors)
Editors
Publisher
Universidad de Salamanca. Instituto Interuniversitario de Estudios de Iberoamérica y Portugal
Abstract
Este artículo analiza las claves explicativas de los resultados de las elecciones legislativas y municipales de 2010 en República Dominicana así como de la reciente transformación que ha experimentado el sistema de partidos dominicano, del tripartidismo al bipartidismo plural. El liderazgo del presidente Leonel Fernández, su imagen, popularidad y pragmatismo son la clave del éxito electoral del PLD, favorecido también por el faccionalismo endémico del PRD y la descomposición progresiva del PRSC. En esta contienda, el PLD consolida su dominio electoral gracias al apoyo de los partidos minoritarios y se asegura el control del Legislativo durante los próximos seis años.
This paper analyzes the explanatory factors of the outcome of the legislative and municipal elections of 2010 in Dominican Republic and the recent transformation experienced by the Dominican party system from a tripartism to a plural bipartism.. The leadership of President Fernández, its image, popularity, and pragmatism, are the key factors in the electoral success of the PLD, favored by endemic factionalism into the PRD and the progressive collapse of the PRSC as well. In this context, the PLD consolidated its electoral dominance thanks to the support of minority parties and will control the Legislative branch for the next six years.
Collections