Publication:
Arquitecturas para la Federación de Proveedores Cloud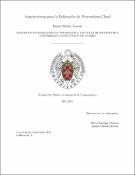 Authors
Advisors (or tutors)
Editors
Abstract
Este trabajo analiza el modelo de cloud híbrido, un paradigma que combina los depliegues de cloud privado con los recursos ofrecidos por cloud públicos. Este nuevo modelo no está totalmente desarrollado todavía, y hay que dedicar mucha más investigación y desarrollo antes de conseguir que despliegues multi-cloud puedan ser usados en producción. En este trabajo se realiza un estudio de las limitaciones y desafíos de este modelo y a su vez se plantean algunas de la técnicas más comunes para lidiar con estos puntos. También se presentará una arquitectura híbrida basada en la herramienta OpenNebula, intentando superar algunos de los desafíos y presentar experiencias reales con esta arquitectura y Amazon EC2. [ABSTRACT] This work analyzes the Hybrid Cloud computing model, a paradigm that combines onpremise private clouds with the resources of public clouds. This new model is not yet fully developed, and there are still a lot of work to be done before true multi-cloud installations become mature enough to be used in production environments. A review of some of its limitations and the challenges that have to be faced is done in this work, and we also include some common techniques to address the challenges studied. We will also present a hybrid cloud architecture based on the OpenNebula Cloud toolkit, trying to overcome some of the challenges, and present some real-life experiences with this proposed architecture and Amazon EC2.
Description
Máster en Investigación en Informática, Facultad de Informática, Departamento de Arquitectura de Computadores y Automática, curso 2010-2011