Publication:
Mecanismos de neurotoxicidad en el circuito corticoestrial : papel protector del receptor CB1 cannabinoide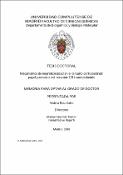 Authors
Advisors (or tutors)
Editors
Publisher
Universidad Complutense de Madrid
Abstract
Los ganglios basales son una serie de núcleos subcorticales interconectados que incluyen el estriado (caudado y putamen en primates), el globo pálido (segmentos internos y externos), el núcleo subtalámico y la sustancia nigra (pars reticulata y pars compacta). Se trata de un nodo fundamental para muchos procesos conductuales y neurobiológicos como el control afectivo, la actividad motora y las funciones cognitivas. La mayoría (~ 95%) de las neuronas del estriado son neuronas GABAérgicas espinosas medianas (del inglés medium spiny neurons, MSNs), que reciben aferencias glutamatérgicas principalmente de la corteza y el tálamo. Está bien establecido que existen dos poblaciones principales de MSNs: las MSNs de la vía directa, que proyectan principalmente a la sustancia nigra pars reticulata y el globo pálido interno, y expresan receptores de dopamina de tipo 1 (D1R-MSNs), y las MSNs de la vía indirecta, que proyectan principalmente al globo pálido externo y expresan receptores de dopamina de tipo 2 (D2RMSNs). Dada su heterogeneidad neuroquímica y funcional, no es de extrañar que el desequilibrio entre la MSNs de la vía directa e indirecta subyazca a la patogenia de diversos trastornos de los ganglios basales como la enfermedad de Huntington (EH) y la enfermedad de Parkinson (EP). Se han descrito cambios notables en la actividad electrofisiológica de las D1R-MSNs, más que de las D2R-MSNs, en modelos de EH durante diferentes etapas de la enfermedad, lo que sugiere un papel importante de esta población neuronal en el desarrollo y progresión de la patología. Por otra parte, en pacientes y modelos animales de EH se ha observado una pérdida selectiva de D2RMSNs. Muchos modelos conceptuales apoyan la hipótesis de que estas dos poblaciones de MSNs son mecánica y funcionalmente opuestas. Sin embargo, la obtención de evidencias empíricas que demuestren sus funciones ha sido difícil, debido a que ambas poblaciones celulares se encuentran físicamente entremezcladas y son morfológicamente indistinguibles...
The basal ganglia are a series of interconnected subcortical nuclei including the striatum (caudate and putamen in primates), the globus pallidus (internal and external segments), the subthalamic nucleus, and the substantia nigra (pars reticulata and pars compacta). They are a key node for many behavioural and neurobiological processes such as motor activity, cognitive functions, and affective control. The vast majority (~95%) of neurons within the striatum are GABAergic medium spiny neurons (MSNs), which receive glutamatergic inputs primarily from the cortex and from specific thalamic nuclei. It is well established that there are two major populations of MSNs: direct pathway MSNs, that project mainly to the substantia nigra pars reticulata and express dopamine type 1 receptors (D1R-MSNs), and indirect pathway MSNs, that project mainly to the external globus pallidus and express dopamine type 2 receptors (D2R-MSNs). Given their neurochemical and functional heterogeneity, it is not surprising that the imbalance between direct and indirect pathway's MSNs may underlie the pathogenesis of several basal ganglia disorders as Huntington's disease (HD) and Parkinsońs disease (PD). Remarkable changes in the electrophysiological activity of D1R-MSNs, rather than of D2R-MSNs, have been shown in mouse models of HD at different disease stages, pointing out to an important role of the former neuronal population. On the other hand, a somewhat selective loss of indirect pathway's MSNs has been observed in HD patients and animal models...
Description
Tesis inédita de la Universidad Complutense de Madrid, Facultad de Ciencias Químicas, Departamento de Bioquímica y Biología Molecular, leída el 31-05-2017
Collections