Publication:
Edgar Allan Poe desde la imaginación científica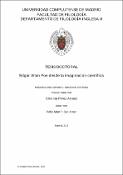 Files
Authors
Advisors (or tutors)
Editors
Publisher
Universidad Complutense de Madrid
Abstract
Students of American literature still comfortably assume, among other misconceptions, that Poe and other nineteenth-century writers worked for and by the penny press. This dearth of scholarship is one of the reasons why so many people continue to rely on old myths, dismissing Poe as a racist, an addict, or a Casanova infatuated with young ladies and remembering him as a caricature of what he really was rather than as the first man who posed a possible solution to Olber's paradox in 1848—among other many scientific speculations which, as the study will show, turned out to be supported with strong experimental evidence. In fact, Poe was among the most widely respected men of his era, but his collaborations on science and medicine continue to be neglected by the majority of the public and academia. My work stems from a fascination with this side of Poe as a scientist, a trajectory that has made me think critically about the ways in which science, pseudoscience, and medicine have been constructed in relationship to literature. This dissertation proposes a complete tour of Poe's approach to science and his scientific rationalism in his writing that has largely been overlooked by critics. The expansive scope of this work includes topics from the impact of physics, neurology, and pseudoscience on Poe's oeuvre to his philosophical elaboration in Eureka and testing the limits of science and its procedures...
Los estudiantes de literatura americana todavía asumen cómodamente, entre otros conceptos erróneos, que Poe y otros escritores del siglo XIX trabajaban únicamente para y por la prensa. Tal desinformación es una de las razones por las que tantas personas continúan hoy en día confiando en viejos mitos, teniendo a Poe por un racista, un alcohólico, o un Casanova enamorado de las jóvenes y recordándolo como una caricatura de lo que realmente era, en lugar de como al primer hombre que planteó una posible solución a la paradoja de Olber en 1848 -entre otras muchas especulaciones científicas que, como el estudio demostrará, resultaron ser apoyadas por una fuerte evidencia experimental. De hecho, Poe fue uno de los hombres más respetados de su época, pero sus colaboraciones en ciencia y medicina continúan siendo desatendidas por la mayoría del público general y la academia. Mi trabajo deriva de una fascinación por esta faceta de Poe como científico, una trayectoria que me ha hecho pensar críticamente sobre las formas en que la ciencia, la pseudociencia y la medicina se han desarrollado en relación a la literatura. Esta tesis propone un recorrido completo por la aproximación de Poe a la ciencia y el racionalismo científico en su escritura que ha sido pasado por alto por los críticos muchas veces...
Description
Tesis inédita de la Universidad Complutense de Madrid, Facultad de Filología, Departamento de Filología Inglesa II, leída el 19/09/2017. Retirada por expreso deseo de la autora.
Collections