Publication:
Los grupos dependientes de entidades de crédito: una revisión a partir de la ley concursal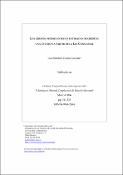 Advisors (or tutors)
Editors
Abstract
Durante el Siglo XX, los principales grupos empresariales españoles tenían como sociedades dominantes a bancos privados. Esta situación mereció alguna respuesta normativa tratando de limitar el poder económico que implicaba el control de esos grupos, así como atenuar los riesgos de conflictos de interés que podían surgir en el seno de esos grupos. Sin embargo, en los últimos años el ordenamiento jurídico ha hecho poco atractivo el mantenimiento de esos grupos bancarios. Así sucedió con las disposiciones dictadas desde el punto de vista de la supervisión. El argumento definitivo para el desmantelamiento de esos grupos ha venido provocado por la entrada en vigor de la Ley Concursal que penaliza al accionista dominante en el concurso de una de sus sociedades filiales. El resultado de ello ha sido la desaparición de esos grupos bancarios, que en algún caso se han visto sustituidos por grupos dominados por cajas de ahorros. In the XXth Century, private banks were the dominant companies of the main Spanish business groups. These circumstances provoked the adoption of certain normative provisions which tried to limit the economic power that could be derived from the control of these groups, and to moderate the risk of conflicts of interest that could appear within them. However, in the last years, the normative system has not been favourable to the maintenance of these bank groups. This can be illustrated by the adoption of different provisions which refer to domain of supervision. The ultimate reason for the dismantling of these groups has been the new Bankruptcy Act which sanctions the controlling shareholders in case of insolvency of any of its subsidiary companies. The main consequence has been the disappearance of these bank groups, which occasionally have been substituted by groups dominated instead by savings banks.
Collections