Publication:
Inventario de Lugares de Interés Geológico de las Islas Canarias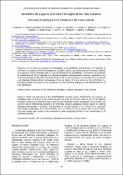 Advisors (or tutors)
Editors
Publisher
Sociedad Geológica de España.
Abstract
En el marco de proyecto de investigación LIGCANARIAS (2018-2021) se ha realizado el Inventario de Lugares de Interés Geológico de las Islas Canarias, que forma parte del Inventario Español de Lugares de Interés Geológico (IELIG) para el dominio de este archipiélago. El inventario ha empleado la metodología del IELIG adaptada a un dominio geológico eminentemente volcánico, partiendo de los contextos geológicos regionales. Consta de 300 LIG: 53 en Gran Canaria, 47 en Tenerife, 54 en Lanzarote y Archipiélago Chinijo, 40 en Fuerteventura, 29 en La Palma, 23 en La Gomera y 21 en El Hierro. La principal novedad con respecto a los inventarios en otros dominios geológicos es la identificación de 33 LIG submarinos.
Within the framework of the LIGCANARIAS research project (2018-2021), the Inventory of Geological Sites of Interest of the Canary Islands has been carried out, which is part of the Spanish Inventory of Places of Geological Interest (IELIG) for the domain of this archipelago. The inventory has used the IELIG methodology adapted to an eminently volcanic geological domain, based on regional geological frameworks. It consists of 300 geosites: 53 in Gran Canaria, 47 in Tenerife, 54 in Lanzarote and Chinijo Archipelago, 40 in Fuerteventura, 29 in La Palma, 23 in La Gomera and 21 in El Hierro. The main novelty with respect to the inventories in other geological domains is the identification of 33 submarine geosites.
Collections