Publication:
Desarrollo de herramientas biotecnológicas en cianobacterias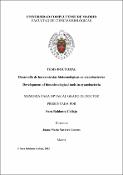 Files
Authors
Advisors (or tutors)
Editors
Publisher
Universidad Complutense de Madrid
Abstract
Las cianobacterias se encuentran entre los organismos vivos más antiguos del planeta y se pueden hallar en todos los ecosistemas de la Tierra, desde océanos, ríos y lagos de agua dulce hasta fuentes termales y desiertos. Aparte de su papel ecológico en los ciclos globales del carbono y el nitrógeno, las cianobacterias se están convirtiendo en un chasis cada vez más atractivo en la producción biotecnológica de compuestos de alto valor añadido, pues los requerimientos para su crecimiento, luz y CO2, son mínimos, gratuitos y abundantes. Si bien diversas cianobacterias, sobre todo Synechocystis spp. y Synechococcus spp., han sido ya caracterizadas para su aplicación industrial, muchas de ellas crecen en condiciones muy concretas, principalmente en condiciones controladas de laboratorio. Por este motivo, continuamente se buscan nuevas cianobacterias que puedan utilizarse como chasis o bien aporten genes de interés en biotecnología. Por lo tanto, es importante estudiar la diversidad de cianobacterias para poder desarrollar su potencial para beneficio humano. Por otro lado, aunque cada vez se describen más, las herramientas moleculares de las que se dispone para modificar el metabolismo de las cianobacterias, aún son limitadas en comparación con las desarrolladas para otros microorganismos de uso industrial y biotecnológico...
Cyanobacteria are among the oldest living organisms on the planet, and they can be found in every ecosystem on Earth, from freshwater oceans, rivers and lakes to hot springs and deserts. Apart from their ecological role in the global carbon and nitrogen cycles, cyanobacteria are becoming an increasingly attractive chassis in the biotechnological production of high value-added compounds since the requirements for their growth, light, and CO2, are minimal, costless, and abundant.Although various cyanobacteria, notably Synechocystis spp. and Synechococcus spp., have already been characterized for their industrial application, many of them grow in very specific conditions, mainly under controlled laboratory conditions. For this reason, new cyanobacteria that can be used as chassis or provide genes of interest in biotechnology are continually being sought. Therefore, it is important to study the diversity of cyanobacteria in order to develop their potential for human benefit. On the other hand, as molecular tools available to modify the metabolism of cyanobacteria are still limited compared to those described for other industrially or biotechnologically-used microorganisms, there is a need for developing new and more versatile biotechnological tools for them...
Description
Tesis inédita de la Universidad Complutense de Madrid, Facultad de Ciencias Biológicas, leída el 20-10-2022
Collections