Publication:
Mesenchymal stem cell-derived extracellular vesicles : therapeutic potential in acute lung injury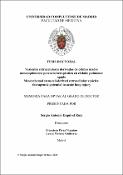 Files
Advisors (or tutors)
Editors
Publisher
Universidad Complutense de Madrid
Abstract
Acute respiratory distress syndrome (ARDS) is a pathology characterized by pulmonary vascular dysfunction, inflammatory phenomena, coagulation disorders and pulmonary oedema leading to alveolar collapse and severe arterial hypoxaemia. Although protective ventilatory and haemodynamic support strategies have improved prognosis, the mortality associated remains high and the discovery of new effective treatments would have a major impact on patient survival. Mesenchymal stem cells (MSCs) have been proposed as a possible therapy in different pathologies due to their low immunogenicity and their ability to repair damage (due to their anti-inflammatory, anti-apoptotic, proangiogenic and anti-fibrotic properties). However, this therapeutic capacity has been shown to be due to the involvement of paracrine mechanisms, such as the release of extracellular vesicles (EVs). Several studies have demonstrated the therapeutic potential of extracellular vesicles in different models of acute lung injury and pulmonary hypertension. In addition, MSCs have been shown to exhibit different responses depending on the environment in which they are found, which has led to a growing interest in the search for strategies to increase their beneficial effects. Among the preconditioning strategies, hypoxia and exposure to TLR3 agonists have been shown to enhance the immunomodulatory and angiogenic capacity of EVs...
El síndrome de distrés respiratorio agudo (SDRA) es una patología que se caracteriza por disfunción vascular pulmonar, fenómenos inflamatorios, alteraciones de la coagulación y edema pulmonar que produce colapso alveolar e hipoxemia arterial grave. Aunque las estrategias protectoras de soporte ventilatorio y hemodinámico han permitido mejorar el pronóstico, la mortalidad asociada se mantiene elevada por lo que el descubrimiento de nuevos tratamientos efectivos tendría un gran impacto en la supervivencia de los pacientes. Las células madre mesenquimales (MSCs) se han propuesto como una posible terapia en diferentes patologías debido a su baja inmunogenicidad y a su capacidad de reparar el daño (debido a sus propiedades antiinflamatorias, antiapoptóticas, proangiogénicas y antifibróticas). Sin embargo, se ha demostrado que esta capacidad terapéutica se debe a la participación de mecanismos paracrinos, como puede ser la liberación de vesículas extracelulares (VEs). Varias evidencias han demostrado el potencial terapéutico de las vesículas extracelulares en diferentes modelos de daño pulmonar agudo e hipertensión pulmonar. Además, se ha demostrado que las MSCs presentan diferentes respuestas en función del ambiente en el que se encuentren, por lo que ha crecido el interés en la búsqueda de estrategias para incrementar sus efectos beneficiosos. Dentro de las estrategias de preacondicionamiento la hipoxia y la exposición a agonistas TLR3 han demostrado una mejora de la capacidad inmunomoduladora y angiogénica de las VEs...
Description
Tesis inédita de la Universidad Complutense de Madrid, Facultad de Medicina, Departamento de Farmacología y Toxicología, leída el 04-05-2022
Collections