Publication:
The compressibility equation for soft-matter liquids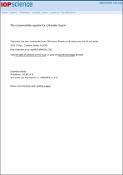 Authors
Advisors (or tutors)
Editors
Abstract
Effective interactions in soft-matter physics result from a formal contraction of an initial multicomponent system, composed of mesoscopic and small particles, into an effective one-component description. By tracing out in the partition function the degrees of freedom of the small particles, a one-component system of mesoscopic particles interacting with a state-dependent Hamiltonian is found. Although the effective Hamiltonian is not in general pairwise additive, it is usually approximated by a volume term and a pair-potential contribution. In this paper the relation between the structure, for which the volume term plays no role, and the thermodynamics of a fluid of particles interacting with a density-dependent pair potential is analysed. It is shown that the compressibility equation differs from that of atomic fluids. An important consequence is that the infinite-compressibility line derived from the thermodynamics does not coincide with the spinodal line stemming from the divergence of correlations.
Description
© 2003 IOP Publishing Ltd. Liquid Matter Conference (5. 2002. Constance, Germany). The author acknowledges financial support from the Ministerio de Ciencia y Tecnología (Spain), reference: BFM2001-1017-C03-03. I wish to thank M Baus, G Ruiz, E Lomba and N G Almarza for many useful discussions and A A Louis for communicating with me prior to publication.
Citation
[1] Poon W C K and Pusey P N 1995 Observation, Prediction and Simulation of Phase Transitions in Complex Fluids ed M Baus, L F Rull and J P Ryckaert (Dordrecht: Kluwer) p 3 [2] König A and Ashcroft N W 2001 Phys. Rev. E 63 041203 [3] Likos C N 2001 Phys. Rep. 348 267 [4] Evans R 1979 Adv. Phys. 28 143 [5] Robbins M O, Kremer K and Grest G G 1988 J. Chem. Phys. 88 3286 [6] Dijkstra M and van Roij R 1998 J. Phys.: Condens. Matter 10 1219 [7] Almarza N G, Lomba E, Ruiz G and Tejero C F 2001 Phys. Rev. Lett. 86 2038 [8] Louis A A 2002 J. Phys.: Condens. Matter 14 9187 [9] Tejero C F, Ruiz G and Lomba E 2003 to be published [10] Tejero C F and Baus M 2003 J. Chem. Phys. at press [11] Stillinger F H, Sakai H and Torquato S 2002 J. Chem. Phys. 117 288
Collections