Publication:
Estudio microbiológico y epidemiológico de enterobacterias productoras de carbapenemasas de tipo VIM y OXA-48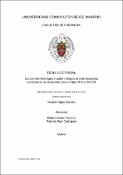 Authors
Advisors (or tutors)
Editors
Publisher
Universidad Complutense de Madrid
Abstract
Actualmente, las infecciones relacionadas con la asistencia sanitaria constituyen un importante problema de salud pública, principalmente las causadas por bacterias multirresistentes. Aunque no hay consenso unánime sobre la definición de multirresistencia, se acepta que el término se aplique a aquellas bacterias que son resistentes a dos o más grupos de antimicrobianos utilizados en el tratamiento de pacientes infectados por los microorganismos considerados. Las enterobacterias productoras de carbapenemasas (EPC) se clasifican como microorganismos multirresistentes. La detección de portadores fecales de EPC tiene implicaciones epidemiológicas relevantes, siendo importante identificar el tipo de carbapenemasa y determinar si el gen correspondiente está asociado a integrones y/o se encuentra en elementos móviles, especialmente en transposones y plásmidos. También es importante conocer sus asociaciones con clones de alto riesgo vinculados a epidemias en instituciones sanitarias y responsables de su dispersión global. La caracterización microbiológica es útil para comprender su diseminación e implementar acciones para su control...
Currently, infections related to health care system constitute an important public health problem, particularly those caused by multidrug-resistant (MDR) microorganisms. Although there is no consensus on the MDR definition, it is generally accepted that the term be applied to those bacteria that are non-susceptible to at least two or more antimicrobial categories used in the treatment of patients infected by the microorganisms considered. Carbapenemase producing Enterobacterales (CPE) are classified as MDR pathogens. Detection of CPE carriers has relevant epidemiological implications, being also important to identify the carbapenemase type and to determine if the corresponding gene is associated with integrons and/or located in mobile elements, especially in transposons and plasmids. It is also relevant to know their associations with high-risk clones linked to epidemics in health institutions and responsible for their global dissemination. The knowledge of these microbiological features is useful to understand their dissemination and to implement actions for their control...
Description
Tesis inédita de la Universidad Complutense de Madrid, Facultad de Farmacia, Departamento de Microbiología y Parasitología, leída el 20/11/2019
Collections