Publication:
El fraude en la interpretación de la norma contable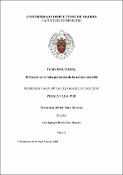 Files
Advisors (or tutors)
Editors
Publisher
Universidad Complutense de Madrid
Abstract
El objetivo del trabajo es analizar la figura del fraude en contabilidad como un medio para manipular la información contable. Más en concreto, del fraude en la interpretación de la norma contable que requiere la previa revisión de la actividad interpretativa con los medios y las características elaborados por la doctrina y la jurisprudencia. El fraude contable presenta una vinculación con el fraude legal de especie a género por lo que es necesaria el análisis inicial de éste último. Estudiamos la evolución que explica la posterior recepción legal en España, sus elementos característicos y la necesaria distinción con otras figuras similares. Esto nos permite a continuación acometer el estudio del fraude contable en las normas profesionales y en los trabajos doctrinales. La conclusión es que su definición difusa incluye instituciones jurídicamente distintas con sanciones igualmente diferentes. Es necesario acudir al trabajo jurisprudencial para precisar su contenido y afirmar que el ámbito de las operaciones con partes vinculadas (máxime en los grupos de empresas horizontales) resultan idóneas para la manipulación por lo que será preciso extremar la atención al respecto...
The aim in this research is the analysis of financial accounting fraud as a mean for giving a false representation of the accounts. In fact, we focus on the interpretation on accounting rules which requires the previous review of the interpretative activity with the tools and characteristics used by researchers and Courts of Justice. Accounting fraud is related to legal fraud in a species to gender relationship. This is the reason why we consider that it is very important the prior analysis of legal fraud. Therefore, we study the evolution until its addition to Spanish Code as well as its elements and the differences with another institutions. It allows us to examine professional rules and papers on this topic. We conclude that there is a confusion on the definition of accounting fraud due to the mix of several legal problems with different solutions. The analysis of the legal proceedings of Courts is appropiated to define its content and for the recognition of the transactions between related parts (especially in horizontal groups) as the ideal area for misrepresentating accounting information. To conclude, we must take care on this particular topic to avoid the disastrous implication of accounting fraud.
Description
Tesis inédita de la Universidad Complutense de Madrid, Facultad de Derecho, leída el 26-02-2021
Collections