Publication:
El salto de escala de las democracias participativas: las conferencias nacionales de políticas públicas en Brasil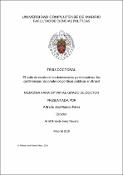 Files
Authors
Advisors (or tutors)
Editors
Publisher
Universidad Complutense de Madrid
Abstract
Esta tesis doctoral pretende enfrentar el problema del scaling up de las democracias participativas. Las innovaciones democráticas han estado, habitualmente, confinadas a escalas locales o micro-locales y la teoría democrática ha consolidado una relación inversa entre escala y calidad democrática. Para superar la trampa de lo local, este trabajo se plantea crear nuevos vínculos entre la teoría deliberativa y participativa con el objetivo de construir un nuevo marco teórico que posibilite una aproximación diferente al problema de la escala. Este nuevo enfoque estará caracterizado por cuatro tipos de diferentes de efectividad: a) epistémica; b) sistémica; c) representativa y; d) participativa deliberativa. A la aproximación teórica, seguirá un estudio de caso para corroborar si la escala influye o no en estas formas de efectividad. Los procesos participativos analizados serán las Conferencias Nacionales de Políticas Públicas en Brasil, con foco en dos temáticas: la Conferencia Nacional de Políticas para Mujeres y la Conferencia Nacional de Transparencia y Control Social.
This doctoral thesis aims to confront the problem of the scaling up of participatory democracies. Democratic innovations have usually been confined to local or micro-local scales and democratic theory has consolidated an inverse relationship between scale and democratic quality. To overcome the local trap, this work aims to create new links between deliberative and participatory theory with the aim of building a new theoretical framework that allows a different approach to the problem of scale. This new approach will be characterized by four different types of effectiveness: a) epistemic; b) systemic; c) representative and; d) participatory deliberative. A case study will follow this theoretical approach to corroborate whether the scale influences these forms of effectiveness or not. The participatory processes analyzed will be the Brazil's National Public Policy Conferences, with focus on two themes: the National Conference on Women's Policy and the National Conference on Transparency and Social Control.
Description
Tesis de la Universidad Complutense de Madrid, Facultad de Ciencias Políticas y Sociología, leída el 19-12-2018
Collections