Publication:
Efecto del precondicionamiento isquémico remoto sobre la lesión miocárdica perioperatoria en cirugía de revascularización miocárdica sin circulación extracorpórea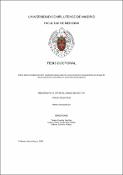 Files
Authors
Advisors (or tutors)
Editors
Publisher
Universidad Complutense de Madrid
Abstract
El precondicionamiento isquémico remoto (PIR) consiste en la protección de un órgano o tejido frente a una isquemia mantenida mediante la realización de episodios isquémicos subletales en otros órganos o tejidos diferentes. Hipótesis: En la cirugía de revascularización miocárdica sin circulación extracorpórea el PIR se reflejará en una reducción de los marcadores de daño miocárdico. Objetivos: Evaluación del daño miocárdico después de una cirugía de revascularización miocárdica quirúrgica sin circulación extracorpórea en pacientes con y sin precondicionamiento isquémico remoto comparando en el postoperatorio los niveles de Troponina I (TnI) así como las proteínas y citoquinas implicadas en los mecanismos cardioprotectores...
Remote ischemic preconditioning (RIP) consists in the protection of an organ or tissue against an ischemia sustained by performing sublethal ischemic episodes in other organs or different tissues. Hypothesis: In off-pump coronary artery bypass grafting, the RIP will be reflected in a reduction of myocardial damage markers. Objectives: Evaluation of myocardial damage after surgical myocardial revascularization surgery without extracorporeal circulation in patients with and without remote ischemic preconditioning comparing levels of Troponin I (TnI) in the postoperative as well as proteins and cytokines involved in cardioprotective mechanisms...
Description
Tesis inédita de la Universidad Complutense de Madrid, Facultad de Medicina, Departamento de Cirugía, leída el 15/10/2020
Collections