Publication:
El aprendizaje cooperativo en el rodaje de un cortometraje de ficción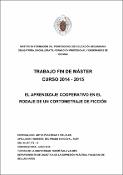 Authors
Advisors (or tutors)
Editors
Abstract
La pedagogía cooperativa se inicia en las edades más tempranas, sin embargo, en algunos casos, parecen omitirse los elementos que articulan sus procesos internos. Cuando esto ocurre, ya sea por falta de tiempo o por tratar otras cuestiones más extensamente, se afronta esta técnica educativa sin una organización y preparación previas, de manera intuitiva. En niveles didácticos inferiores, como es el caso de la enseñanza primaria, no se dedica el espacio suficiente a entrenar, tanto al equipo docente como al alumnado, para desempeñar productivamente estas labores tan relevantes. Una vez alcanzada la educación secundaria, universitaria o superior, los grupos de trabajo suelen ser vistos como un desahogo para algunos y como una sobrecarga para otros, sin saber gestionar adecuadamente el esfuerzo que conlleva una actividad de tamañas proporciones. Estos problemas son arrastrados hasta la edad adulta, sin asimilar e integrar, en los conocimientos y actitudes, la forma correcta de unificar energías hacia una causa común. Compartir, colaborar, asociarse, delegar y ayudar, son algunas de las acciones básicas empleadas en casi todas las profesiones, siendo necesario perfeccionarlas con una práctica que ha de darse desde la infancia. En un centro formativo destinado a preparar profesionales del medio audiovisual, donde el trabajo en equipo y la colaboración entre sus integrantes supone una máxima, es fundamental motivar y coordinar a todos sus miembros, para que sean competentes y estén plenamente capacitados de cara a su futura vida laboral. El reto de compilar los elementos del aprendizaje cooperativo en el rodaje de un cortometraje de ficción, supone el objeto de estudio de esta investigación; así como las relaciones, interacciones, dificultades y desavenencias que derivan de este paradigma organizativo.
The cooperative pedagogy begins in an early age, in spite of the fact that in some occasions the elements that articulate its internal processes seems to be omitted. When it comes about, either througt for lack of time or since it is about other issues more widely, this educational act faces intuitively without prior preparation and organization. Referring to lower didactical standards, as in primary education teaching levels, the space applied for practical instructions to perform productively this relevant teamwork is not enough, neither referred to the teaching staff nor to the students. Achieved secondary, university or higher education, the working-groups could be quite often seen as a feeling of relief by some of the students and sometimes on the contrary as an overwork to some others; consequently they couldnot manage of the effort involved in an activity of such dimention. Such kind of problems are carried into adulthood unassimilating and unintegrating the right way of unifying energies towards a common cause in knowledge and attitudes. Sharing, collaborating, partnering, delegating and helping are some of the basic actions used in almost every profession, which need necessarily to be improved conveniently by practicing since childhood. In an educational center designed to prepare professionals, whose activity will be involved into audiovisual media ocupation, where team-working and collaborationing among all of them suppose a maxim, it is essential motivating and coordinating all the members in order to achieve competition and total training regarding to face their future career. The challenge of compiling the elements of cooperative learning in a short fiction filming involves the motif of this research, as well as relationships, interactions, difficulties and disagreements arising from this organizational paradigm.