Publication:
La lucha por el control de la política informativa de la España franquista durante la Guerra Civil. El caso de las Oficinas Católicas de Información Internacional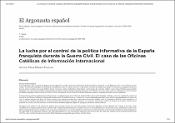 Advisors (or tutors)
Editors
Abstract
Nous analyserons dans cet article les disputes qui ont opposé les membres de l'Action Catholique, du Renouvellement Espagnol et de la Phalange, suite à la constitution et mise en place des Bureaux Catholiques d'Information Internationale. Ainsi le cardinal Gomá et, en particulier, celui qui fut désigné pour diriger ces centres de propagande, Francisco de Luis (ancien membre du journal Débat), durent surmonter nombre d'obstacles, d'importants représentants des autorités rebelles comme Sainz Rodríguez (monarchiste alphonsin) et le responsable du Cabinet Diplomatique du Quartier Général du Généralissime, Sangróniz, étant hostiles à ce projet. Nous mettrons également en évidence l'image que l'Église catholique voulait projeter de la Guerre Civile à l'étranger à travers le journal De Rebus Hispaniae, organe de propagande desdits bureaux catholiques.
A lo largo de este artículo analizaremos las disputas que se produjeron entre los hombres de Acción Católica, Renovación Española y Falange a raíz de la constitución y puesta en marcha de las Oficinas Católicas de Información Internacional. El cardenal Gomá, y en especial la persona designada para dirigir estas centrales propagandísticas, Francisco de Luis, el antiguo miembro del diario El Debate, tuvieron que superar las trabas que importantes autoridades rebeldes como el monárquico alfonsino Sainz Rodríguez o el responsable del Gabinete Diplomático del Cuartel General del Generalísimo, Sangróniz, pusieron a su proyecto. Mostraremos también la imagen que la Iglesia católica quería proyectar de la Guerra Civil en el exterior a través del diario De Rebus Hispaniae, órgano de propaganda de dichas oficinas católicas.
Throughout this article we will analyze the disputes that occurred between men of Acción Católica, Renovación Española, Renewal Spanish and Falange in the wake of the establishment and implementation of the Catholic Office of International Information. Cardinal Gomà, and especially Francisco de Luis, the person appointed to control these plants propaganda, the former member of the newspaper El Debate, had to overcome significant obstacles from rebel authorities as the monarchical alfonsino Sainz Rodriguez or the responsable of the Diplomatic Cabinet of the General Headquarters of the Generalisimo, Sangróniz. We will show also the image that Catholic Church wanted to project of the Civil War on the outside through the journal De Rebus Hispaniae, propaganda organ of those catholic offices.
Collections