Publication:
Consecuencias de obesidad y síndrome metabólico en diálisis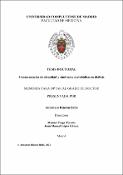 Files
Authors
Editors
Publisher
Universidad Complutense de Madrid
Abstract
La Organización Mundial de la Salud (OMS) define obesidad como una acumulación anormal o excesiva de grasa corporal que puede ser perjudicial para la salud. En población general, el parámetro más utilizado para el diagnóstico de obesidad es el Índice de Masa Corporal (IMC), definido como Peso(kg)/Talla(m)2. Además de su facilidad de cálculo, ha demostrado ser un factor de riesgo de hipertensión, diabetes y mortalidad total y cardiovascular. En población en diálisis, sin embargo, grandes estudios observacionales han relacionado el aumento del IMC con una mayor supervivencia. Este hallazgo, denominado "la paradoja de la obesidad", ha dado lugar a numerosas publicaciones intentando explicar las ventajas de la obesidad. El tejido graso en pacientes en diálisis continúa sintetizando mediadores implicados envías metabólicas e inflamación. Además, la enfermedad renal crónica asocia una elevada carga de inflamación crónica que produce cambios corporales significativos, como una progresiva pérdida de peso y elevado riesgo de desnutrición...
Obesity is defined by the World Health Organization (WHO) as an excessive accumulation of body fat that can be hazardous to human health.Body Mass Index is the most widely used diagnostic criteria for obesity. It is defined as Weight/Height2. It is easy to calculate, and it has been related with hypertension, diabetes and total and cardiovascular mortality. However, big epidemiological studies in dialysis patients have evidence that BMI can be related with better survival. This finding is called "The obesity paradox" and there are lots of papers trying to explain why obesity can increase survival in these patients. Adipose tissue secretes some cytokines involved in metabolic pathways and inflammation, also in dialysis patients. Chronic kidney disease is related with a chronic inflammatory status and a high risk of weight loss and malnutrition. This protein energy wasting is one of the most important mortality risk factors in dialysis patients...
Description
esis inédita de la Universidad Complutense de Madrid, Facultad de Medicina, Departamento de Medicina, leída el 17-06-2021
Collections