Publication:
La televisión local en España: el modelo de negocio de "Popular Televisión" (2002-2006)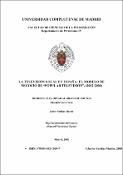 Files
Authors
Advisors (or tutors)
Editors
Publisher
Universidad Complutense de Madrid, Servicio de Publicaciones
Abstract
El presente trabajo analiza el modelo empresarial y de gestión de Popular Televisión enmarcado, por una parte, por la preocupación de la Iglesia Española por su presencia en el ámbito de los medios de comunicación y, por otra, en el contexto legal e histórico de la televisión local en España. Popular Televisión, la cadena de televisiones locales de la Conferencia Episcopal Española, nació en 2002, dos décadas después de la llegada de la televisión local a España, y bajo el marco jurídico de la 'alegalidad' que ha presidido el desarrollo del sector hasta la aprobación del Plan Técnico de la Televisión Local Digital, en 2004. El marco 'legal' en el que se han desenvuelto los operadores locales de televisión, así como la competencia con otras cadenas locales de televisión no han frenado la expansión de Popular Televisión, cuya principal característica diferenciadora respecto a otros operadores del sector se centra la programación, calificada de 'generalista' y 'familiar', que apuesta firmemente por la producción propia y que está basada en el humanismo cristiano. Popular Televisión, primera cadena 'católica' del país, tuvo sus antecedentes en dos emisoras diocesanas de titularidad eclesial: Canal Diocesano de Televisión y TMT. Sin embargo, como cadena, Popular Televisión, ha cubierto un hueco vacío en la oferta televisiva española, lo que ha provocado una rápida respuesta de los telespectadores españoles. El apoyo de la Conferencia Episcopal Español, así como el impulso dado por Radio Popular-COPE al nacimiento de la cadena, han sido fundamentales para la expansión del proyecto, que en tan sólo cinco años está presente en todas las provincias de la geografía española. El crecimiento de la cadena en estos cinco años, así como la evolución de sus balances, prevén un asentamiento definitivo de Popular Televisión en los próximos años, que se verá refrendada o matizada cuando finalice el proceso de concesión de frecuencias de emisión digital, en las que hasta el momento ha obtenido buenos resultados en varias comunidades autónomas.
This work analyzes the management model of Popular Televisión in the framework of, on one hand, the Spanish Church's desire of being present in the media, and, on the other, the legal and historical context of local television in Spain. Popular Televisión, the local TV channel of the Spanish Bishops' Conference, was born in 2002, two decades after the arrival of local TV in Spain and in the context of an inexistent legal frame that has presided the sector's development until the passing of the Technical Plan for the Local Digital TV in 2004. Neither the 'legal' frame in which the local TV operators have been working nor the competition with the other local TV channels have slowed down the expansion of Popular Televisión, whose principal feature - being 'generalist', 'family-orientated' and firmly committed to develop its own production on an humanistic and Christian base – is what differentiates the channel from other TV operators. Popular Televisión, the first 'Catholic' TV channel in Spain, has two precedents: Canal Diocesano de Televisión and TMT, both diocesan channels belonging to the Church. Nevertheless, Popular Televisión has filled an empty space in the Spanish TV market as shown by the quick answer of the Spanish television viewers. The support of the Spanish Bishops' Conference and the initial help of Radio Popular-COPE have been decisive for the project's expansion: in only five years' time the channel has managed to be present in all Spanish provinces. Its growth and annual results forecast the definitive settlement of Popular Televisión in the next years, whose existence will be confirmed or slightly changed as soon as the process of concession of frequencies in the digital TV spectrum comes to its end; a process in which Popular Televisión has already obtained good results in several autonomous communities.
Description
Tesis de la Universidad Complutense de Madrid, Facultad de Ciencias de la Información, Departamento de Periodismo IV, leída el 06-06-2008
Collections