Publication:
The Water-Energy-Food nexus: trends, trade-offs and implications for strategic energies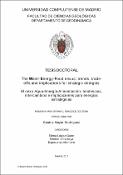 Files
Authors
Advisors (or tutors)
Editors
Publisher
Universidad Complutense de Madrid
Abstract
Since the strong interdependencies between water, energy and later food were first identified, this topic has been gaining importance at the international level and for the business sector. Over the last five years, the need to characterize and understand the complex network of interconnections and interdependencies within the so called Water-Energy-Food (WEF) nexus has been strongly emphasized. Some of the most important knowledge gaps in the field include the following: 1. Better understanding of the whole set of interconnections, trade-offs, crossed efficiencies and synergies between the WEF systems to better inform decision makers on technical choices and best strategies; 2. More concise and harmonized conceptual and analytical frameworks for the Nexus Approach, as well as formulas to deal with complexity and guide implementation; 3. More and better quality data, particularly on availability and use of surface and especially groundwater resources, impacts of hydropower on aquatic ecosystems, water use, consumption and impacts by the energy sector, among others; 4. Need for harmonized tools and methodologies for water and energy accounting; 5. Applied case studies to identify and account for trade-offs in the local contexts; 6. Policy and regulatory coordination; and 7. Social awareness and communication around the nexus (Rodríguez et al., 2013; Hoff, 2011). Born on the eve of 2014, the United Nations's International Year for Water & Energy, this Phd research aims to contribute to fill some of these gaps by focusing on three research objectives: 1. Tracking down and clarification of nexus trends at a global scale; 2. Discussion on the WEF nexus concept and proposal of a methodology to conduct regional assessments; 3. Elaboration of applied case studies to analyse relevant WEF nexus related problems, particularly the accountability of WEF nexus trade-offs, the analysis of impacts and contributions from hydropower, and the analysis of potential implications for water security of hydraulic fracturing. The first objective is addressed through an in depth study of the main drivers influencing the WEF nexus, together with the most important trends and current research lines. This analysis is complemented by a prospective exercise to explore the future evolution of selected variables with particularly high levels of uncertainty. It consists of a Delphi survey gathering the visions and contributions from Spanish experts on the topic. The results indicate the importance of technology innovation and transfer as the main conditioning factors to achieve energy and water security. In terms of energy, biofuels and shale gas are perceived as the energies with highest potential impacts on water quantity and especially on water quality...
Desde la pionera identificación y reconocimiento de las interdependencias entre el agua, la energía y más adelante la alimentación, este tema ha venido ganando importancia a nivel internacional y empresarial. Durante el último lustro, la necesidad de expandir el conocimiento acerca del concepto e implicaciones del llamado Nexo Agua-Energía-Alimentación (AEA), definir los principios que fundamentan este enfoque e identificar sus principales retos y oportunidades se han ido fraguando en la comunidad científica, el sector privado, las organizaciones internacionales y la sociedad civil. Entre las brechas de conocimiento más reconocidas en este campo se encuentran las siguientes: 1. necesidad de una mejor comprensión del conjunto de interconexiones, intercambios, eficiencias cruzadas y sinergias entre los sistemas AEA, con el fin de informar a los gobernantes en la selección de las mejores técnicas y estrategias; 2. necesidad de un marco conceptual y analítico del Enfoque Nexo más conciso y armonizado, así como fórmulas para lidiar con la complejidad y guiar la implementación; 3. necesidad de mejorar la cantidad y calidad de datos e información, particularmente en lo referido a disponibilidad y uso de los recursos hídricos, impactos de los complejos hidroeléctricos sobre los ecosistemas acuáticos y uso, consumo e impactos de las tecnologías energéticas sobre los recursos hídricos, entre otros; 4. necesidad de herramientas y metodologías armonizadas para la contabilización de agua y energía; 5. necesidad de casos de estudio aplicados para identificar y contabilizar los intercambios en los contextos locales; 6. necesidad de coordinación política y regulatoria; 7. necesidad de concienciación social y comunicación (Rodriguez et al., 2013; Hoff, 2011). Nacida a las puertas de 2014, el Año Internacional de Naciones Unidas del Agua y la Energía, esta tesis doctoral pretende unirse a los amplios esfuerzos por aportar algo de luz sobre este tema, mediante el desarrollo de tres objetivos: 1. seguimiento y clarificación de tendencias a escala global; 2. discusión del concepto del Nexo AEA y propuesta de una metodología para realizar análisis regionales; 3. elaboración de casos de estudio para analizar problemáticas relevantes relacionadas con el nexo, particularmente la contabilización de intercambios, el análisis de impactos y contribuciones de la hidroeléctrica, y el análisis de potenciales implicaciones de la fractura hidráulica para la seguridad hídrica...
Description
Tesis inedita de la Universidad Complutense de Madrid, Facultad de Ciencias Geológicas, Departamento de Geodinámica, leida el 05/04/2016
Collections