Publication:
Effect of Extract and Ellagic Acid from Geranium schiedeanum on the Antioxidant Defense System in An Induced-Necrosis Model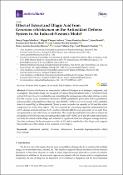 Advisors (or tutors)
Editors
Abstract
Geranium schiedeanum has been used in traditional therapies as an antiseptic, antipyretic, and as analgesic. The present study was designed to evaluate the pretreatment with G. schiedeanum total extract (GS) and its active metabolites on stimulating the endogenous antioxidant defense system (EADS): catalase (Cat), superoxide dismutase (SOD), glutathione peroxidase (GPx), glutathione reductase (GR), and glutathione reduction index (RI GSH/GSSG) in rat liver treated with a sublethal dose (6.6 mmol/Kg) of thioacetamide (TAA) in order to probe the capacity of GS and the active compounds to reduce liver injury. This was assessed by measuring aspartate aminotransferase (AST), alanine aminotransferase (ALT), and total bilirubin (BILT) in rats pretreated or not with TAA, and pretreated or not with GS and its metabolites. The results showed that GS was able to induce the production of EADS enzymes, increasing redox index GSH/GSSG at 24 and 48 h after intoxication, and both the extract and the ellagic acid exhibited a significant reduction of hepatic damage markers. Our data confirmed the hepatoprotective effect of GS and its metabolites, like ellagic acid, support the possible use of this extract in the treatment of liver injury.
Collections