Publication:
El Atlas Anatómico de la Facultad de Medicina de la Universidad de Zaragoza. La recuperación de una pieza importante del patrimonio histórico universitario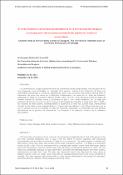 Authors
Advisors (or tutors)
Editors
Publisher
Biblioteca Histórica de la Universidad Complutense de Madrid
Abstract
La Universidad de Zaragoza puede honrarse de poseer dos piezas excepcionales, fruto del genio de los dos aragoneses más universales: un ejemplar de la primera edición de los Caprichos de Goya con comentarios manuscritos y el Atlas de Anatomía de Cajal y sus sucesores. Este artículo informa sobre el tratamiento de estas dos obras en la Biblioteca Universitaria y se centra en el Atlas de Anatomía, restaurado. El Atlas es un enorme volumen (1.385 x 950 x 9.5 cm y unos 60 Kg de peso) con tapas de madera forradas de arpillera, lomos y cantoneras de piel y dos cierres metálicos, con 34 hojas que contienen 49 láminas en color, las doce primeras tradicionalmente atribuidas a Cajal entre 1877 y 1883 y las restantes de otros autores, contemporáneos o posteriores. El Atlas fue, durante años, intensamente utilizado en las clases como material didáctico. Cuando dejó de utilizarse, a los daños producidos por el uso se sumaron los de la humedad. El Atlas de Anatomía, restaurado, y enriquecido con seis láminas descubiertas en el proceso de restauración, se incorporó a la colección histórica de la biblioteca Universitaria. [ABSTRACT]The University of Zaragoza can be honoured of owning two exceptional pieces, fruit of the genius of the two most universal Aragonese men: a copy of the first edition of Goya's Caprichos with manuscript commentaries, and the Atlas of Anatomy of Cajal and his successors. This article reports on dealing with both works in University Library and focuses on the Atlas of Anatomy restored. The Atlas is an enormous volume (1.385 x 950 x 9.5 cm. and nearly 60 kg in weight) with wooden covers lined with burlap, leather spine and cornerpieces and two metal clasps, with 34 leaves containing 49 pictures in colour, the first twelve are traditionally attributed to Cajal, betwen1877 and 1883; the following pictures from other authors, contemporary and later than Cajal. The Atlas was intensively used in the classroom for many years as didactic material. When no longer used, along with the damage produced by its use, it was worsened by humidity. The Atlas restored and enriched with six more pictures discovered in the process of restoration, joined the historical collection of the Zaragoza University Library.
Collections